September 24, 2014
Seattle landscape architect to present lecture Oct. 1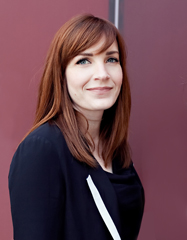 Shannon Nichol, founding principal of a Gustafson Guthrie Nichol, a Seattle-based landscape architecture practice, will present "Repair Works" at 4 p.m. Wednesday, Oct. 1, in the Little Theatre at the K-State Student Union.
This lecture is part of the Kansas State University's College of Architecture, Planning & Design distinguished lecture series through the landscape architecture and regional & community planning department. The lecture is free and the public is welcome.
Nichol's designs, including Lurie Garden in Chicago's Millennium Park, the Bill and Melinda Gates Foundation campus and Boston's North End Parks, are widely recognized for being deeply embedded in their neighborhoods and natural contexts. Her work incorporates complex functions into simple frameworks and refined landforms.
"The Olmsted era may seem to be over, but American landscape architects have far more work to do than ever before in carefully repairing, preserving and repurposing existing human-built environments," Nichol said.
Nichol's current projects include phase two of the Bill and Melinda Gates Foundation campus, Rainier Vista at the University of Washington and plans for Cleveland's historic Group Plan District and Civic Mall-Medical Mart and Convention Center.
Nichol is a member of the American Society of Landscape Architects, holds LEED AP certification and is an honorary member of the American Institute of Architects, Seattle. Her work has received multiple Design Excellence and Honor Awards from the American Society of Landscape Architects and American Institute of Architects, and she and her partners received the 2011 Cooper-Hewitt National Design Award for Landscape Architecture. Nichol lectures internationally, frequently juries for design awards and serves on advisory committees for universities and nonprofits.