July 17, 2014
Maj. Shawnn Martin selected as commander for Air Force ROTC program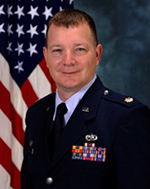 Maj. Shawnn Martin is the new commander of the Air Force Reserve Officer Training Corps, or AFROTC, Detachment 270, and department head and professor of aerospace studies in the College of Arts & Sciences at Kansas State University.
"Part of our land-grant heritage and charter has been to provide young men and women access to military officer training," said Peter Dorhout, dean of the College of Arts & Sciences. "Our college has served as the academic home to aerospace studies since the AFROTC was created, and we are happy to have someone with Maj. Martin's experiences, training and significant interest in education as one of our new department heads."
Martin is a 24-year Air Force veteran with a functional specialty in aircraft maintenance and logistics. He has led production and maintenance efforts on A-10, B-1, B-52, F-16 and F-22 aircraft. Prior to coming to K-State, Martin was commander of two large maintenance squadrons at Dyess Air Force Base in Texas and Tyndall Air Force Base in Florida, respectively. He deployed in support of Operation Enduring Freedom in 2002 and 2009. His career also includes teaching for Air Education and Training Command as an avionics systems instructor.
"This assignment is a true blessing for the family," Martin said. "Being from the Midwest, my wife, Erica, and I are pleased to be joining the Kansas State University Wildcat team."
Martin is the third generation in his family to serve in the military and was raised in the Upper Peninsula of Michigan. He entered the Air Force an enlisted airman in 1990 and served more than nine years as an enlisted F-16 Avionics Technician before receiving his commission through Officer Training School in 1999.
Martin earned a bachelor's degree in mathematics from Midwestern State University, before earning a master's degree in human resources management from Wayland Baptist University. He is currently pursuing his doctorate in educational leadership and administration through Bethel University.
The Air Force ROTC program is designed to recruit, educate and commission officer candidates through college campus programs based on Air Force requirements. Units are located at 145 college and university campuses throughout the United States and Puerto Rico. Students from schools near Air Force ROTC host institutions can attend classes through 1,100-plus separate crosstown enrollment programs or consortium agreements. At K-State, Detachment 270 enrolls approximately 90 cadets each academic year and produces on average 10 newly-commissioned and highly-competitive second lieutenants each academic year.
"I look forward to developing the Air Force's future officers and working with the various academic departments at the university while planning to increase diversity and enrollment in our AFROTC program over the coming years," Martin said.