February 26, 2014
College of Arts and Sciences student named Miss Kansas USA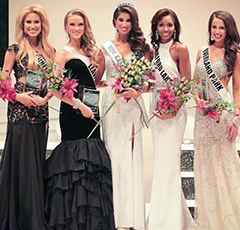 Few people can say they won the first pageant they competed in, but that's exactly what Audrey Banach, senior in communication studies, did when she claimed the prestigious title of Miss Kansas USA 2014 in December 2013.
The College of Arts and Sciences student was born into a military family as the middle child of three. She began traveling around the country at a few months old, living in multiple states before settling down in Kansas, which has been her home for the past seven years.
"With so much change in my childhood, it led me to become a highly resilient and 'glass half full' kind of individual," Banach said.
Inspiration to enter the Miss Kansas USA pageant came from Banach's mother, Margie Banach, who won Miss Congeniality at the Miss Iowa USA pageant in the 1980s. Audrey Banach was keen on the Miss USA organization because it challenges women to achieve a healthy lifestyle and realize one's true potential.
Along with motivation from her mother, her heart to serve prompted her to compete. While at K-State, she became greatly involved in different organizations at K-State that supported autism awareness, including Autism Speaks. She contributed by organizing 5Ks and charity events along with participating in many beneficial endeavors that brought knowledge and understanding about autism.
"As I prepared for the pageant, I grew immensely into the woman that I wanted to be through participating in benefaction and charity," Banach said. "Philanthropy and service to others have become my joys throughout this whole process and was the reason I first competed."
The preliminary competition of the Miss Kansas USA pageant was scored equally from three phases: swimsuit, evening gown and interview. The top five scores proceeded to an onstage interview. Following the interviews, the judges declared a winner based on their overall impression of each contestant.
To prepare for the interview portion of competition, Banach worked with one of her communication studies instructors, Joseph Koehle. Together, they worked on polishing answers to a list of possible questions. The answers needed to be smart, sensitive and able to be given in a short period of time. Due to her great initial responses, her answers didn't require a lot of reworking. Koehle credited this to Banach's sophisticated and inspired ideas about the world.
"Audrey is good at communicating not only because she is smart and hard working, but also because she is an active listener. In all of my classes she has been a leader and a positive example," Koehle said. "When I think of the model communication studies student, Audrey immediately leaps to my mind. She works hard at communicating well, something few people actually take the time to do."
Banach credits her area of study as part of her success in competition. She is able to use what she learned in the classroom in her role as Miss Kansas USA 2014.
"Being a communication studies major and conducting communication research, I've learned about how individuals communicate and why they choose their specific communication tactics," Banach said. "Tone, eye contact, choice of words and body language give one the necessary information about another's motivation while observing communication. This is a helpful talent, especially through this process."
Her communication skills played a large role in competition and will continue to be valuable in different aspects of her life.
"The most vital lesson I've learned is that one should always take time to think and interpret their own communication style before they respond, act or commit," she said. "By doing so, an individual is able to see all sides of an issue or process. This tool has helped when organizing events, participating in groups and planning my schedule. It's taking yourself out of the equation and seeing how your words and actions impact the people around you, or that you're in contact with. Understanding your own communication style can potentially give one a leg up in life."
Communication skills are critically importance in today's world. The communication studies program offered by the College of Arts & Science prepares students, like Banach, for their future endeavors, and in turn, creates successful examples of what the program and college are all about.
"As part of her role as Miss Kansas USA, Audrey's background in communication will enhance her ability to deepen the connections she builds in interactions across Kansas and allow her to clearly articulate her ideas," said Sarah Riforgiate, Banach's communication studies academic advisor. "However, there is a lot more to Audrey. My hope is that Audrey will share her passion for communication theory and talk about her independent communication research when given the opportunity. She will be a great ambassador for communication studies, Kansas State University and the state of Kansas."
Banach is currently in the application process for a master's degree in health services administration. Upon graduation, she hopes to continue to aid the people and community around her and beyond.
"I envision myself being a hospital administrator, either in specialty women's health or pediatrics, giving the best care to the patients that I am responsible for," she said. "I hope to provide their families with clear communication, cost-efficient alternatives and cutting edge facilities."
Banach will compete in her final pageant, Miss USA 2014, this summer.