February 26, 2014
National End It: Shine a Light on Slavery Day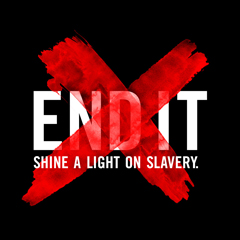 Join the university's Freedom Alliance and other freedom fighters from around the world as we shine a light on slavery by drawing a red X on your hand on Thursday, Feb. 27. Tell your world that slavery still exists and you won't stand for it.
Snap a pic of your hand. Share it using #ENDITMOVEMENT. Change your Facebook profile pic to it. Let's make freedom go viral. Just use your influence any way you can to help us carry the message of freedom so even more people know. Let's make this Shine a Light on Slavery Day even brighter than ever.
Let's be the generation to stand up for the 27 million men, women and children trapped in slavery around the world today — in brothels, factories, mines, on street corners, in homes, hidden in the shadows and in broad daylight in plain sight here in America. Stand with us. Raise your voice. Use your influence. Join the fight for freedom.
Learn more about the End It movement. Learn more about Freedom Alliance.