February 14, 2014
Planning your future with the regional and community planning program
Submitted by Communications and Marketing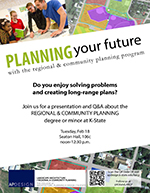 Do you enjoy solving problems and creating long-range plans? A K-State degree or minor in regional and community planning might be a good fit for you. Join the K-State regional and community planning program for a presentation and Q-and-A about the program at noon Tuesday, Feb. 18, in 106c Seaton Hall.
The 15-minute presentation given by Huston Gibson, assistant professor of regional and community planning, will cover an introduction into the dynamic profession of planning and why the degree is beneficial.
This event is open to all students, but it might be of particular interest to those in open option, seniors who are getting ready to graduate with a bachelor's degree and are considering a two-year graduate/professional degree, and those seeking a degree in a related field and are looking for a complementing minor.
To learn more about the program prior to the event, please visit http://apdesign.k-state.edu/larcp/.