January 9, 2014
Salina campus alumnus newest K-Stater featured for living the Wildcat Way
Submitted by Communications and Marketing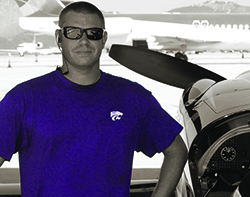 The newest K-Stater featured for living the Wildcat Way is Jim Reed. He gives us good reason to fight over the window seat.
As a student, he worked as a mechanic on the Virgin Atlantic GlobalFlyer when it set the longest nonstop flight distance record. Today he builds commercial spacecraft for Richard Branson's Virgin Galactic. Travelers on these suborbital space flights can experience microgravity out of their seats and view planet Earth from their windows, making reaching for the stars all the more real.
Go online to find out more about other K-Staters featured for living the Wildcat Way. If you or someone you know lives the Wildcat Way, share it!
Jim Reed gives us good reason to fight over the window seat. As a student, he worked as a mechanic on the Virgin Atlantic GlobalFlyer when it set the longest nonstop flight distance record. Today he builds commercial spacecraft for Richard Branson's Virgin Galactic. Travelers on these suborbital space flights can experience microgravity out of their seats and view planet Earth from their windows, making reaching for the stars all the more real. - See more at: http://www.k-state.edu/wildcatway/reed.html#sthash.VYxejuff.dpuf
Jim Reed gives us good reason to fight over the window seat. As a student, he worked as a mechanic on the Virgin Atlantic GlobalFlyer when it set the longest nonstop flight distance record. Today he builds commercial spacecraft for Richard Branson's Virgin Galactic. Travelers on these suborbital space flights can experience microgravity out of their seats and view planet Earth from their windows, making reaching for the stars all the more real. - See more at: http://www.k-state.edu/wildcatway/reed.html#sthash.VYxejuff.dpuf
Jim Reed gives us good reason to fight over the window seat. As a student, he worked as a mechanic on the Virgin Atlantic GlobalFlyer when it set the longest nonstop flight distance record. Today he builds commercial spacecraft for Richard Branson's Virgin Galactic. Travelers on these suborbital space flights can experience microgravity out of their seats and view planet Earth from their windows, making reaching for the stars all the more real. - See more at: http://www.k-state.edu/wildcatway/reed.html#sthash.VYxejuff.dpuf