December 10, 2013
Stress management event tonight at the Peters Recreation Center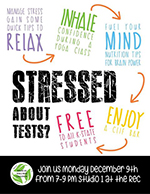 Start your Dead Week with stress reducing activities.
Stop by Studio 1 at the Peters Recreation Center anytime from 7-9 p.m. tonight for a stress management event. Learn quick relaxation tips, nutritional information for exam day, receive a mini massage and finish off with a relaxing yoga class. See you there!
This event is sponsored by K-State Wellness Coalition.