October 7, 2013
Latin American Film Series presents 'Innocent Voices' film
Submitted by Yaritza M Sanchez Gil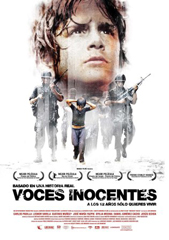 Latin American Film Series presents "Voces Inocentes" or Innocent Voices at 7 p.m. today in Forum Hall. We welcome you to watch this great film.
It is directed by Luis Mandoki, Mexico, El Salvador, 2004. It is 110 minutes long and rated R.
The movie is about the bloody civil war, which tore apart El Salvador in the 1980s. It is presented through the eyes of a young boy, Chava. At 11 years old, he is growing up in a small town where the fighting between rebels and government troops is a daily fact of life. Chava's 12th birthday is coming up, which puts the boy in a dangerous position. At 12, he'll be considered old enough to join the army to fight against the rebels, so he and his classmates try to find out when military recruiters will be coming to their school so they can plan to be absent that day. As Chava faces both danger and adventure in his little town, the war edges in closer all the time until it cannot be avoided any longer.