September 24, 2013
Italy Night at K-State volleyball: First 200 students receive a free Italian K-State T-shirt
Submitted by K-State Athletics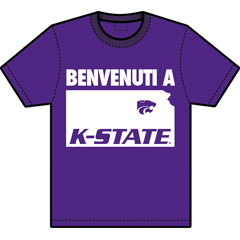 Students, come to Ahearn Field House at 7 p.m. tonight for Italy Night as K-State volleyball hosts the Italian under-23 National Team. The first 200 students will receive a free Italian K-State T-shirt.
Can't be one of the first 200? More T-shirts will be thrown out throughout the game. Doors open at 6 p.m.
This event is a Purple Pride Cup event. Greek students, swipe your ID card at the door to earn points for your house.