September 24, 2013
English alum to speak on the history of women and video games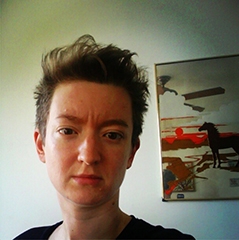 English alum Laine Nooney, 2006 Master of Arts graduate, returns to campus on Friday, Sept. 27, for a public lecture on women and video game culture.
Her lecture, "Girls Had Game: Locating the History of Women's Play We Forgot to Remember," will take place from 4-5 p.m. in Town Hall at the Leadership Studies Building.
Nooney is completing her doctorate in cultural analysis and theory at Stony Brook University. Her research focuses on the media archaeology and cultural history of 19th- and 20th-century U.S. media and technology, specifically computers, video games, and domestic machines and spaces.
She has appeared on Public Radio International's "Marketplace" and other media venues to discuss her work.
In her talk, Nooney will offer historical context for the video game culture described in Ernest Cline's novel "Ready Player One," the K-State 2013 common reading selection, as well as demonstrating methods of cultural studies analysis and archival research on early computer games.
More information about Nooney's research is available from her website. Her lecture is sponsored by the English department.