September 19, 2013
Internet thought leader to discuss why he loves, hates the Internet Sept. 24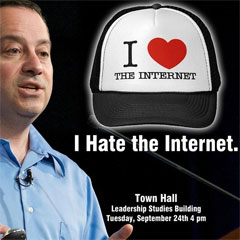 Micah Sifry, author of "WikiLeaks and the Age of Transparency" and director of Personal Democracy Media, will discuss his thoughts on how the Internet shapes our culture, politics and society in the lecture, "I love the internet. I hate the internet," at 4 p.m. Tuesday, Sept. 24, in Leadership Studies Town Hall.
As the co-creator of the Personal Democracy Forum, Sifry is at the center of a vast network of people exploring and creating new media technologies for social good.

In "WikiLeaks and the Age of Transparency," Sifry takes an optimistic view of the ways in which the Internet might enable a more active citizenry.

"Transparency is the fuel; connectivity is the engine; a sense of oneself as a more effective participant in the democratic process (personal democracy, if you will) is the journey. What is emerging was a greatly expanded notion of the role of citizen not just as a passive consumer of political information and occasional voter, but as an active player, monitoring what government and politicians were doing, demanding a seat at the table and a view of the proceedings, sharing self-generated news of what was important, and participating in problem solving."

But the events of the past 18 months involving the trials of Bradley Manning, revelations of broad-scale National Security Agency surveillance and the pursuit of Edward Snowden have tempered this enthusiasm.
"It's impossible to deny that what we've seen and learned over the last 18 months is pretty challenging to that goal and hope," Sifry says in a recent blog post.