August 28, 2013
Dissertation provides faculty with six technology tips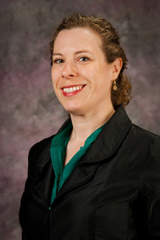 A College of Education dissertation has been condensed to six salient points designed to help faculty improve the use of technology in their courses, especially for first-year, nontraditional and transfer students.
The dissertation written by Sara Kearns, associate professor and head of the undergraduate and community services department, uncovered issues that could make a significant difference in student success, particularly in the first few weeks of class.
Christy Craft, associate professor of special education, counseling and student affairs, served as Kearns' major professor.
"Sara's research provides us with a number of practical recommendations that we can implement in our efforts to use information and communication technology in ways that will meet the academic and social needs of our first-year students," Craft said.
Following are the six tips:
1. Don't assume students are already familiar with K-State Online, the university's website for interactive classrooms.
Kearns' research showed that students quickly absorbed K-State Online into their academic lives once they were shown how to access it.
"Students expressed stress and frustration because they were repeatedly told how important it was, but not taught how to access it. Compounding this was that they were not always sure of the differences between the university's overall website, iSIS and K-State Online," Kearns said. "If we can all take two minutes of class time early in the semester and show students where to log in, we could remove an unnecessary barrier."
Also interesting — and confusing for students — was how many different ways K-State Online is referenced across campus. For instance, Kearns' study revealed it is referred to as K-State Online, K-S-O-L, Kay-Saul, and Kay-Sole.
2. Provide models for your students when describing your expectations for their use of technology.
"If you tell students that you expect them to be professional when they email you, provide examples of what a professional email looks like, including your own emails to students," she said. "Yes, they do pay attention if you've told them it's important."
3. Be as explicit as possible when explaining to students what technologies will be needed for your courses and what options are available if they do not work.
"Tell students how and when to contact you because of technical problems and discuss options," Kearns said. She suggested encouraging students to take timed exams online using Ethernet cables or at a computer lab that is hardwired for the duration of the exam.
In addition, share important contact information for the IT Help Desk, the ResNet Help Desk and Ask a Librarian. Even when the desks are closed, the FAQ sections of websites for these services can be helpful for stressed students.
4. Take a "universal design" approach to the technologies used in your classroom.
"If you believe that basic information about a technology will help one or two students in class, assume it will help all of your students," she said.
5. Reconsider placing complete class notes online.
"Multiple students indicated the temptation to skip class was greater when they knew the notes were online," Kearns said. "Faculty may want to consider posting bare outlines that may include only key terms and elaborate on those during class or creating notes with blanks that students fill-in during class."
6. Understand the ways first-year students use technology to build relationships. Students turn to technology to create or maintain personal relationships and expressed preferring to hangout in person to socializing online.
"Encourage returning students to use social media to help new students meet new people," Kearns advised. "One student raved about how close residents of her floor were, especially after a retuning student created a Facebook page where residents could invite others to events they were attending. Another student kept in contact with her floor mates via a Twitter hashtag."
For more information about the study, please contact Kearns at skearns@k-state.edu.