August 6, 2013
Letter from A.D. John Currie: Projected fiscal year 2014 budgeted revenues and expenses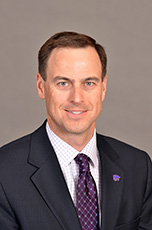 Good morning, K-State fans!

I pulled back into Manhattan on Sunday after being out of town for the last few weeks, and I must say I'm blown away by how much our athletics complex has changed! Driving along Kimball Avenue from east to west I passed the new Intercollegiate Rowing Center, which is nearing completion, then the resurfaced (finally!) east parking lot, and finally the West Stadium Center — amazing progress! After my son and I unpacked the car, I drove back over and toured the West Stadium Center.

Now, on to business. In my previous five letters we reported on our progress over the last four years toward our Vision of a Model Intercollegiate Athletics Program and our five core goals. In keeping with our commitment to transparency today it is our pleasure to share with you our projected fiscal year 2014 budgeted revenues and expenses.

For fiscal year 2014 we are projecting a balanced budget of $60 million, a $1.95 million increase over last year and a 36 percent increase from our 2010 budget of $44.1 million.
Our largest revenue sources will again be the combined $30.68 million in ticket purchases by our loyal fans and individual contributions by our Ahearn Fund donors, along with our projected Big 12/NCAA revenue share of $21 million. Keep in mind that the Big 12 now has equal sharing of all conference television, bowl and other revenue. And while our Big 12 revenues have doubled since 2009, that grassroots support of our fans and donors is still the largest source of support for K-State student athletes.

On the expense side, approximately 57 percent of our budget is in the direct operations of our teams — scholarships, sports medicine, coaching, travel, recruiting, etc.

It has become fashionable lately for national critics to question the worth of an athletic scholarship, usually with derisive comments along the lines of "all they get is..." (although our readers who are currently funding their children's tuition or paying down their student loans probably aren't in this camp!) So, you may have asked yourself what exactly is the value of a K-State athletic scholarship?

This year, each full out-of-state scholarship (57 percent of our full scholarship student athletes are from outside the state of Kansas) will cost the athletics department $29,755, which covers tuition, food, housing and books. In addition, we spend approximately $7,868 per student athlete on academic services, sports medicine, insurance and personalized strength and conditioning. So in our calculation, the current value of a K-State scholarship is $37,623, and given that a typical football player also has a redshirt year, the five-year total value of that scholarship is $188,115.

This of course does not include the cost of coaches, facilities, travel, marketing, game management, etc. It also does not include the aid and special support available to studentathletes with financial need. For instance, a full federal Pell Grant (available to all students who meet the designated government need index) is $5,500 this academic year. Through the NCAA Student Assistance Fund we are able to assist with other special needs and emergencies (like trips to attend a family funeral, etc.). At K-State we use some of our Student Assistance Fund to provide an annual $500 clothing allowance to Pell Grant eligible student athletes. As I have mentioned in previously letters, I am definitely a proponent of expanding NCAA legislation to enable us to provide additional need-based support for our student athletes.
Returning to our budget analysis, the completion of the West Stadium Center, Intercollegiate Rowing Center and Basketball Training Facility adds approximately 265,000 square feet in a 12-month period so we have added utility and maintenance funds for these increased expenses. Our administration line item for fiscal year 2014 will be about $3 million, down from $4 million in the fiscal year 13 budget. This past year we completed the final payments for our inherited contractual obligations with former employees and have also retired our inherited operating deficit in the university aircraft account. Our annual institutional support fee, which helps the university provide administrative support to K-State athletics, will increase by 67 percent to $300,000 in fiscal year 14.

As we begin year five we are completely focused on our Vision of a Model Intercollegiate Athletics Program and, as promised, here are a few special items we'll be working on in support of our five core goals.

To strive toward a World-Class Student-Athlete Experience, we'll be opening all those facilities we've discussed, holding several team reunions, expanding our career development support, and perhaps most significantly initiating service from our new Student Athlete Performance Table.

We'll work to add Value to the University, Community and State by having eliminated direct state funding, participating in a study of the Kimball Avenue corridor and supporting the critical advancements of K-State 2025. You've read national stories about major discussions about NCAA governance reform, and we are investing significant time to support President Schulz in his role as a member of the NCAA Board and Executive Committee while this academic year is also K-State's turn to chair the Big 12's annual meetings.

Regarding Goal No. 3, Integrity and Transparency in Matters of Ethics, Finance and NCAA Compliance, a balanced budget is no longer a goal. It is an expectation that we will achieve for the fifth straight year. Working toward best practices in institutional control and risk management we will bring in an outside consultant to conduct a review of our compliance operations and procedures. You may recall we did this in 2009 and will do so every three or four years.
Finally, as a matter of annual procedure we'll continue to devote the majority of our August all-athletic staff and coaches meetings to review the policies and procedures that seem mundane until you read national headlines and see what happens when you don't pay attention to details — stuff like a review of our university policy prohibiting discrimination, harassment and sexual violence, as well as our whistle-blower policy, NCAA affidavits, etc.

The only goal we have slightly revised is No. 4, Championship Athletic Performances, to which we simply deleted the word "level" that used to follow "championship." Elevating the national academic profile of Kansas State University plays a critical role in enhancing our recruiting platform — another reason we need all Wildcat fans to familiarize themselves with K-State 2025, the university's visionary plan to elevate K-State into the ranks of the nation's Top 50 institutions by 2025! We'll continue to endeavor to provide the necessary resources for our coaches and teams while we push hard on our national branding, along with continuing the planning process for the next phases of the Bill Snyder Family Stadium Master Plan.

That planning process dovetails right into goal No. 5, the Best Fan Experience in the Big 12, as we aim to be ready to make a decision on video, sound and connectivity enhancements for both the stadium and Bramlage this year, along with an implementation schedule. We've also devoted significant time to enhancing our in-game experience in sold-out Bill Snyder Family Stadium this fall including the addition of in-game highlights from relevant contests around the conference on our video board. We can't wait for the West Stadium Center dedication celebration. Remember, it is open to the public and free, at 11 a.m. Friday, Aug. 30. It will be a big-time production and include some very special and memorable elements you won't want to miss! Stay tuned for additional details regarding our dedication celebration and also our annual Fall Football Kickoff (formerly fan appreciation day), which is now set for Aug. 17.

After four years in MHK, I believe more than ever that we can not only be a model intercollegiate athletics program but indeed be America's model program! We appreciate the personal investment that every K-Stater makes worldwide! Wear your purple with pride and let 'em know where you are from!

Yesterday was a busy day back in the office with various meetings and our football team continuing camp workouts and our annual Media Day on the field at Bill Snyder Family Stadium. We were also pleased to welcome Big 12 Commissioner Bob Bowlsby to Manhattan and the K-State campus Monday afternoon, as he spent some time touring all of our facilities and visiting with President Schulz as well as addressing our local media.

Before we wrap up today, here are a few more updates from around the department.

Athletics Hall of Fame Class of 2013 announced
Restarting our hall of fame process has been an important goal and just a few weeks ago we announced an impressive group of 10 individuals who comprise the class of 2013. The inductees include former student athletes Roy DeWitz (men's basketball), Yana Dorodnova (women's tennis), Lauren Goehring (volleyball), Steve Henson (men's basketball), Jaime Mendez (football), Tammie Romstad (women's basketball) and Austra Skuyte (track and field), former Athletics Director Bebe Lee as well as long-time supporters Dr. Richard Baker and Jack and Joanna Goldstein. This group will be inducted the weekend of October 11-12 surrounding the Baylor football game. Each of these 10 inductees has made a lasting impact on K-State Athletics and Kansas State University, and we look forward to welcome them back to Manhattan this fall for a special weekend.

Kivett named Cape Cod League All-Star

The success of the 2013 Bat Cats has continued through the summer as Big 12 Player of the Year Ross Kivett was named an all-star in the prestigious Cape Cod League. It was also announced early this summer that Ross and fellow All-Big 12 teammate Shane Conlon elected to return to K-State instead of signing professional contracts after being drafted this summer. Both talked about the joys of being a college student at K-State and Manhattan and wanted to return for another year with their teammates! Read a full update on our baseball players' summer action.

Finally, I would like to wish safe travels for our women's basketball team as they venture to Italy for a summer foreign tour. Many of our teams have traveled internationally for once-in-a-lifetime opportunities to not only improve as athletes but also broaden their educational and cultural experiences. Be sure and follow the team throughout its trip to Italy at www.k-statesports.com.

Have a great week, and...
Go Cats!
John Currie