November 3, 2023
K-State team wins Baja Fall Frenzy competition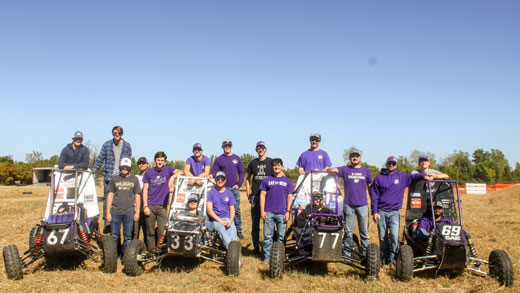 The K-State Baja SAE competition team poses with its four vehicles at the Baja Fall Frenzy competition in Stillwater, Oklahoma. From left: Kolton Sims, Nick Steinkamp, Emery Kaylor, Isaac Chow, Austin Alpers, Tanner Gould, Ethan Gabrielson, Cory Embers, Hazen Keener, Weston Kraus, Will Vetter, Jacob Denholm, Colton Madden, Dillon McGinn, Jordan Norman, Jake Samaniego and Ari Srivastava.
The Kansas State University Baja SAE competition team won the Baja Fall Frenzy, an unofficial SAE competition hosted by Oklahoma State University on Oct. 7.

The K-State team took first place ahead of second-place Oklahoma State, with Oklahoma finishing in third. The event itself is designed to offer teams in the Midwest region the chance to simulate and prepare for future official SAE competitions.
Those who made the trip for K-State all got the chance to drive a few laps in the car before the hourlong endurance race. Typical SAE national competitions involve a four-hour endurance race.
"It was good for us to see how other teams approach and solve problems differently than how our team does," said Tanner Gould, senior in computer engineering.
Cory Embers, junior in mechanical engineering, was one of two K-State drivers of the winning car.
"My favorite part of Fall Frenzy was getting to drive the Raptor in the endurance race," he said.
The team typically competes in a national competition each year and will travel to SAE Williamsport May 16-19 in Williamsport, Pennsylvania. In May, they finished in 26th place in the endurance race out of 86 competing teams at Baja SAE Oregon.
The team travels next to Houghton, Michigan, to compete in another unofficial SAE event, Winter Baja, a race they took fourth place out of 50 competing teams last year.