June 26, 2013
'Beautiful Alchemy': Memorial art exhibit in Willard Hall honors alumnus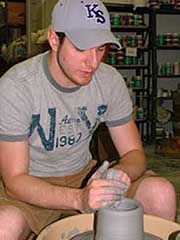 A memorial art exhibition to celebrate the life of Jason Harper is on display in the Mark A. Chapman Gallery in Willard Hall through June 28.
The exhibit, "Beautiful Alchemy," features work Harper created for his Master of Fine Arts thesis exhibition. It's open to the public from 10 a.m. to 5 p.m. Monday through Friday.
As a fine arts student at K-State, Harper won the prestigious Undergraduate Award for Student Excellence from the National Council on Education for Ceramic Arts. His work was featured in Ceramics Monthly magazine shortly after he received his bachelor's degree. There's also a scholarship in his name through the K-State Foundation.
"This scholarship will allow future students to follow their passion for art at K-State," said Geraldine Craig, art department head. "In this way, Jason will continue to touch the lives of students and their art, flowing from his work as a teacher, mentor and friend to so many."

The exhibit allows his parents, housing and dining services assistant director Skyler Harper and his wife, Kristi, to share their son's talent and creativity, and to remind us all to make the most of life.
"From a small child, he loved to create -- he did it constantly," they said. "Our hope for you is that you find that thing in life that you are passionate about and pursue it. Don't let anything stand in your way. Find a way to make a living at it, to make it your life."
A closing memorial reception is open to all who would like to attend and will be held from 4-6 p.m. Friday, June 28.