June 13, 2023
Powercat Motorsports notches club-best finish at national Formula SAE competition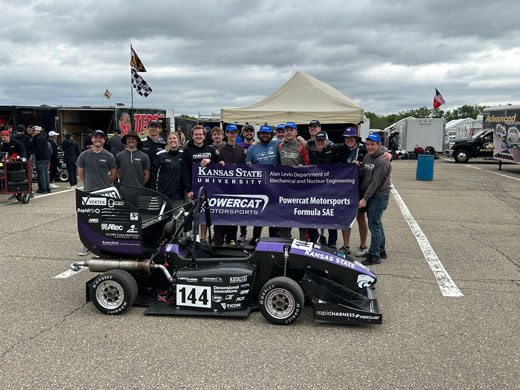 In the club's top showing since it began competing annually in this event in 1997, the Powercat Motorsports Formula SAE team finished in 14th place at Formula SAE Michigan, May 17-20, at Michigan International Speedway in Brooklyn, Michigan.
The team finished with a total score of 684.5 to take 14th place out of 119 competing teams. The group took seventh place in endurance, 14th in autocross, 27th in skidpad and 27th in acceleration. K-State was the top Big 12 finisher in the competition, finishing ahead of Oklahoma State University, which finished in 22nd place.
The competition challenges teams to design, manufacture, test, race and present a fully functional, open-wheel, open-cockpit racecar. The team is housed in the Alan Levin Department of Mechanical and Nuclear Engineering, and the entirety of the work is completed by students from all across campus.
Hosein Baboly, teaching assistant professor, and Kevin Wanklyn, teaching associate professor, both from the mechanical and nuclear engineering department, serve as faculty advisors to the team.