May 26, 2023
CEZID-CBID Seminar Series presentation today
Submitted by Christine Huncovsky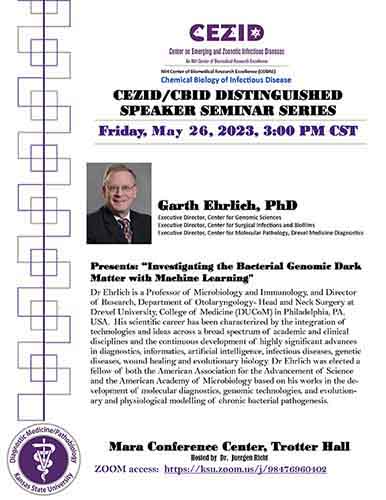 The COBRE Center on Emerging and Zoonotic Infectious Diseases, or CEZID, is hosting Garth Ehrlich in the next presentation of the CEZID Distinguished Speaker Seminar Series at 3 p.m. Friday, March 26, in the Mara Conference Center on the fourth floor Trotter Hall. The seminar will also be available via Zoom.
Ehrlich's presentation is titled "Investigating the Bacterial Genomic Dark Matter with Machine Learning."
Ehrlich is a professor of microbiology and immunology as well as the director of research in the department of otolaryngology-head and neck surgery at Drexel University's College of Medicine in Philadelphia, Pennsylvania. His scientific career has been characterized by the integration of technologies and ideas across a broad spectrum of academic and clinical disciplines and the continuous development of highly significant advances in diagnostics, informatics, artificial intelligence, infectious diseases, genetic diseases, wound healing and evolutionary biology. Ehrlich was elected a fellow of both the American Association for the Advancement of Science and the American Academy of Microbiology based on his works in the development of molecular diagnostics, genomic technologies, and evolutionary and physiological modeling of chronic bacterial pathogenesis.
The CEZID seminar series is organized within the diagnostic medicine and pathobiology department in the College of Veterinary Medicine and is hosted by Juergen Richt, CEZID director.