June 11, 2013
College of Arts and Sciences selects Gadbury to head statistics department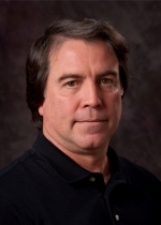 Gary Gadbury is the next statistics department head in the College of Arts and Sciences at Kansas State University.
"Dr. Gadbury brings a unique perspective to the role," said Peter Dorhout, dean of the College of Arts and Sciences. "He has been a leader in building bridges and making critical connections across disciplines to bring statistics and statistical tools to bear on challenging global problems. His talents align well with the strategic plan for the statistics department and college."
Gadbury has been part of the K-State statistics department since 2007. He came from the Missouri University of Science and Technology where he was an associate professor in the department of mathematics and statistics. At K-State, Gadbury has been the co-director of the graduate program for the statistics department, along with teaching undergraduate and graduate courses, and research responsibilities.
Gadbury earned a bachelor's degree in electrical engineering from Southern Illinois University. After eight years with IBM, Gadbury returned to graduate school to earn a master's degree in applied mathematics from University of Colorado at Denver and a doctorate in statistics from Colorado State University. He has worked on research projects funded by National Institutes of Health, National Science Foundation, NASA and the Kansas Bioauthority.
"I am honored to follow a distinguished and effective line of leaders who have built and developed the statistics program at K-State for the past 50-plus years," Gadbury said.
Gadbury replaces James Neill, who has served as department head since December 2008. Neill will remain a faculty member with the statistics department with teaching and research interests.
"I am very pleased that Gary has accepted the offer to be the next head of the statistics department," Neill said. "He has been a strong contributor to the department, including teaching a wide range of graduate level classes, supervising several Ph.D. students, conducting a very successful interdisciplinary research program, and providing noteworthy service on many department committees and to the discipline more broadly."
The statistics department was founded in 1959 and offers bachelor's, master's and doctoral degrees in statistics, producing a total of 369 master's degrees and 157 doctorates. Former faculty and alumni include 16 fellows of the American Statistical Association, five recipients of the American Statistical Association Founders Award — the highest award given by the American Statistical Association, two past presidents of the association, and two executive director's of the association, including Ronald L. Wasserstein, a 1987 doctoral alumnus, who currently holds that position.
"It is a great time to be a statistician and an even better time to be one at K-State," Gadbury said. "Statistics is a quintessential interdisciplinary science and its existence as a distinct profession is due to the many problems emerging from the sciences and in society that require quantitative solutions obtained from collected data. And the potential for growth in the statistics profession is only accelerating."
Along with the advances in the statistics profession, Gadbury also sees a strong connection to K-State 2025.
"Many opportunities for focused research expansion that were identified by the research themes committee as part of the K-State 2025 vision play to the strengths of a strong and vibrant statistics department," Gadbury said. "I see our statistics department being a key participant in the success of K-State 2025. I look forward to the excitement of serving as head of a department of talented statistical scientists as our program continues to grow and develop in the coming years."
For more information about the department of statistics, visit the website.