March 16, 2023
Digby presents NEA-sponsored 'Search for Simurgh' project in New York City
Submitted by School of Music, Theatre, and Dance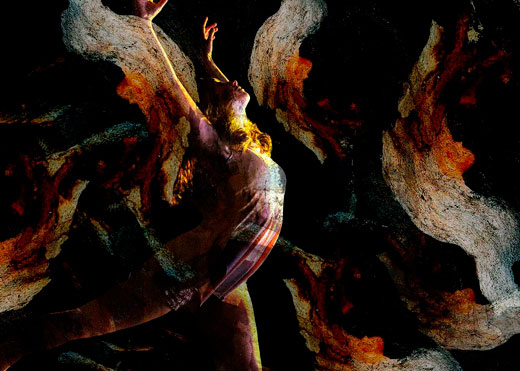 Rachelle Jackson, junior in kinesiology and pre-physical therapy, participates as part of the "Search for Simurgh" project. Photo credit: Neoshia Shockley, class of 2022, source photo of bark Roya Movafegh.
School of Music, Theatre, and Dance associate professor Kate Digby presented her interdisciplinary project, "Search for Simurgh," in New York City Sept. 22-24, 2022.
The immersive performance-installation invited participants on a journey of migration through a forest of stories about freedom, search and interdependence. Initially envisioned by Digby in collaboration with visual artist Roya Movafegh, the performances were dedicated to Movafegh's memory.
A new iteration of "Search for Simurgh" will be shared with the Manhattan community on Saturday, April 8. The new iteration includes computational art and biosensing technology by Mark-David Hosale and Alan Macy and integrates theatrical contributions by Erika Batdorf.
The project has been supported in part by the National Endowment for the Arts, Kansas State University, BIOPAC Systems, Inc., nD::StudioLab and Cause LLC.
Digby is associate director of the dance program, where she teaches Modern, Improvisation, Composition, Anatomy, and Movement Fundamentals, and she directs the K-State Contemporary Dance Ensemble.
Digby's research involves the creation and presentation of original interdisciplinary performance works that integrate biosensing technology for the purpose of enhancing human connection. Learn more.