September 30, 2011
Kansas Peace Awards presented to Susan Allen, student
Submitted by Dorinda J. Lambert, Ph.D.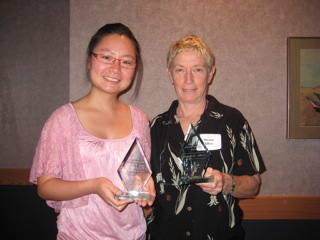 The second annual Kansas Peace Awards were presented Sept. 22 at Kansas State University to Susan L. Allen, director emeritus of nonviolence studies, and Jinzi Chen, senior in management from Harbin, China.
Doug Benson, professor of Spanish and chair of the Kansas Peace Awards committee, said the Peace Awards were created to recognize innovative work to promote an inclusive community and honor a campus and community member each year who have made significant change to bring together diverse sociocultural groups and build a caring, engaged community.
Allen retired in 2010 after a long career at K-State. Her earlier efforts include producing the Alliance Newspaper from 1981 to 1987 and writing K-State's first diversity training manual in 1991. She is probably most know as the former director of the Women's Center and then as director of nonviolence studies at K-State, which is now a certificate program offered through the department of sociology, anthropology and social work, as well as online through the Division of Continuing Education. Examples of projects that Allen helped initiate at K-State which are continuing to thrive are: the Campaign for Nonviolence, SafeZone, the Peace Pole, Movies on the Grass and Noontime Yoga. She has also been active in the development of the Kansas Nonviolence Network and is working on a book manuscript on nonviolence education that has an innovative design for classroom use in colleges in the U.S. and elsewhere.

Chen has worked for the last two years in the English language program in the office of international programs. She has compiled a number of accomplishments and awards during her time at K-State, including the prestigious Anderson Senior Award for Outstanding Leadership. This summer she was a mentor for MAPS — Multicultural Academic Success Program Success — where she advised incoming multicultural students. She has also volunteered to assist with the College of Business Administration orientation for new international students and, according to her adviser, layed a big role in the success of this program. "She has shown great leadership in helping student feel comfortable at K-State and through these activities has been able to connect students from various cultural and ethnic backgrounds," Chen's adviser said.

K-State can be proud of how well these awardees represent to the world our campus community's commitment to peace and nonviolence.