February 20, 2023
K-State provides sustainable agricultural training for beginning farmers in Nigeria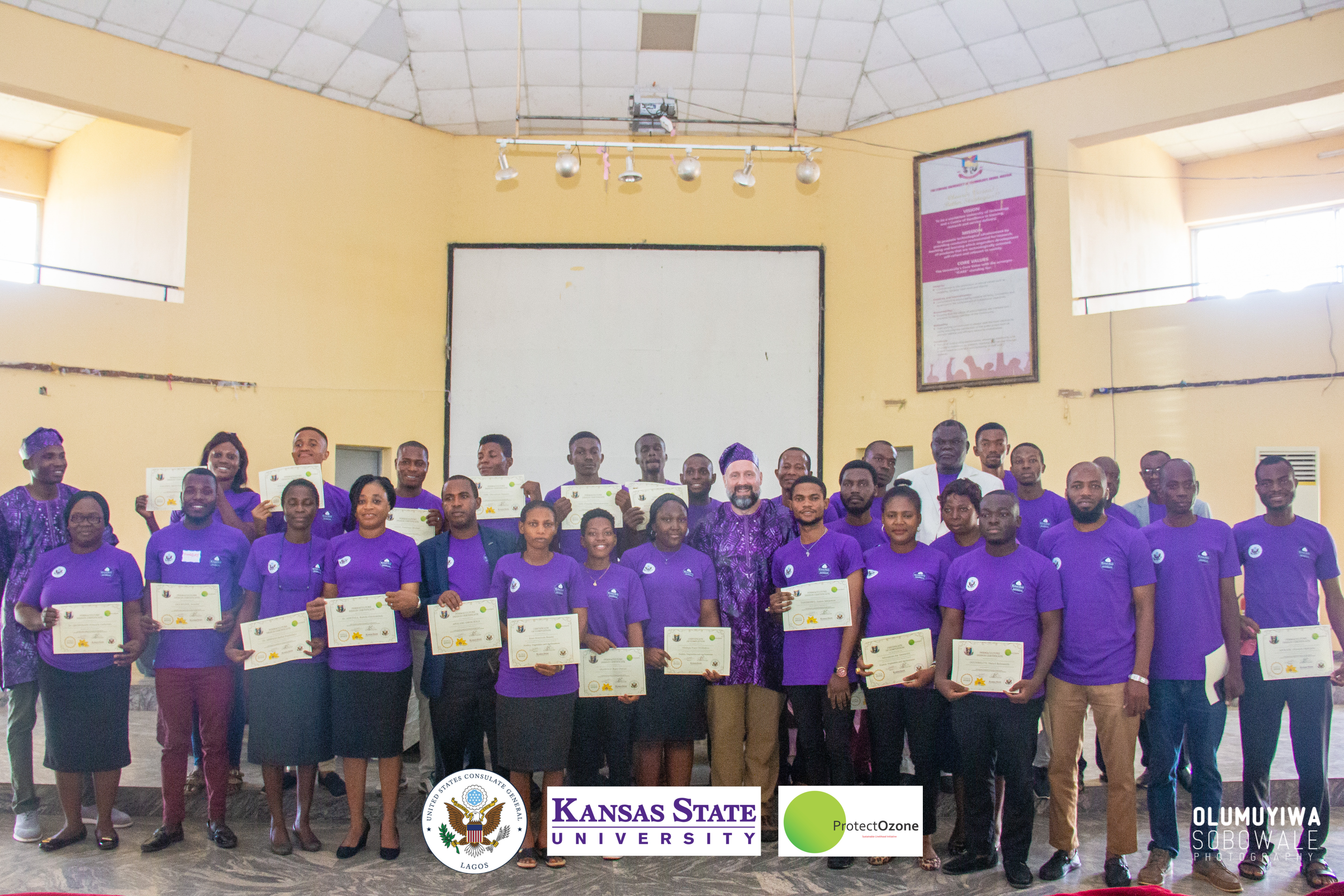 Olalekan A. Sipasi "Sipasi," doctoral candidate in horticulture, and his advisor, Jeremy S. Cowan, assistant professor of horticulture and natural resources, delivered short courses in agribusiness, poultry and vegetable production, and permaculture design certification.
Sipasi won a competitive grant from the U.S. Consulate General in Lagos, Nigeria, during the 2022 grant cycle. The funding provided boots and smocks for each participant as well as all course materials, including the vegetable seed and baby chicks. From more than 3,700 applications, 118 Nigerian youth, women and beginning farmers received training thanks to this grant and the K-State team.
The trainings comprised three cohorts of students, 20-25 per cohort. In April 2022, Sipasi personally launched the first course in Lagos. He traveled back to Nigeria in July to facilitate and teach the first of two permaculture design certificate courses in Abeokuta, Nigeria. Cowan, with Amber Dunn, Carol Barta and Ben Stallings, educators for the Kansas Permaculture Institute, contributed lectures and discussion via Zoom.
In December 2022, Cowan joined Sipasi in Akure, Nigeria, for the second permaculture design certification and to graduate the final cohort. Both trainings were hosted by the School of Agriculture and Agricultural Technology at the Federal University of Technology. The 10–day certification included lectures, hands-on practical sessions, group work and discussions, and field trips. For their final design project, students were tasked with re-imagining and designing the space around the school's building.
In addition to the K-State contingent, these trainings were supported and augmented by educators from the Kansas Permaculture Institute and Nigerian academics and educators from the Federal University of Technology, Akure, School of Agriculture and Agricultural Technology; Federal University of Agriculture, Abeokuta, College of Plant Science and Crop Production; and the Soilless Farm Lab at Obasanjo Farm in Abeokuta — a facility owned and generously made available by the former President of Nigeria, Olusegun Aremu Obasanjo.
Permaculture is often touted as an "ethical design system that mimics the functions of natural ecosystems to produce more sustainable and abundant landscapes." Cowan explains that "while permaculture holds the promise for healthier and more abundant agroecosystems, the permaculture ethics and design principles may also be applied to non-land-based systems."
Before starting his program at K-State, Sipasi founded ProtectOzone Sustainable Livelihood Initiative, a Nigerian nongovernmental organization that trains youth, women and small holders in sustainable agriculture principles and practices to push back against extreme poverty and hidden hunger in Nigeria. He plans to gradually expand his organization's influence to other African countries.
Sipasi received his permaculture design certification at K-State, in partnership with the Kansas Permaculture Institute, during the summer of 2020. He quickly identified the need to take permaculture education back to his corner of Africa.
"This will be more relevant to my people in Africa," Sipasi said. "Permaculture is a strategy that, I think, would strengthen our local food production in Africa."
This realization prompted him to pursue funding for the endeavor.
Sipasi's vision for a more sustainable Nigeria appealed to Cowan, who supported his permaculture education and assisted in preparing the Consular grant proposal. Cowan recognizes the essential role a resilient local food system has in stabilizing an economy against market and supply-chain shocks and in the developing world.