February 10, 2023
ArtSci hosts Lunch with the Deans for graduate students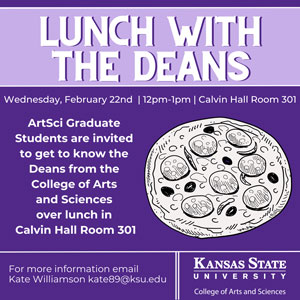 The College of Arts and Sciences is giving ArtSci graduate students the opportunity to take part in a lunch where they can speak with the deans of the college about their experiences, voice any questions or concerns and enjoy a meal with fellow students.
Lunch with the Dean will take place at noon Wednesday, Feb. 22, in 301 Calvin Hall. The lunch will be open to any graduate student enrolled in the College of Arts and Sciences.
To sign up for the lunch, fill out the form by 5 p.m. Wednesday, Feb. 15.
For more information please email Kate Williamson, event coordinator, at kate89@k-state.edu.