February 1, 2023
College of Arts and Sciences thanks all involved with Civil Rights Teach-In, requests feedback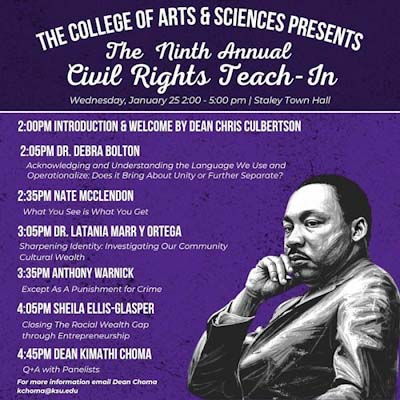 The College of Arts and Sciences thanks everyone who helped make the ninth annual Civil Rights Teach-In a success.
The college especially thanks the presenters: Debra Bolton, Ph.D.; Nate McClendon; Latania Marr Y Ortega, Ph.D.; Anthony Warnick; and Sheila Ellis-Glasper. The esteemed and engaging presenters shared their knowledge, experience and perspectives with the university community during K-State's Martin Luther King Jr. Observance Week.
The college seeks feedback to help plan future events. Attendees and other K-Staters who may have suggestions can fill out the brief Civil Rights Teach-In feedback survey.
The College of Arts and Sciences also invites you to the Student Diversity Summit from 3-5 p.m. Friday, April 14, in Town Hall of the Leadership Studies Building.