January 31, 2023
Brittny McLaughlin and Christian Larson recognized as Professional Staff and Professor of the Week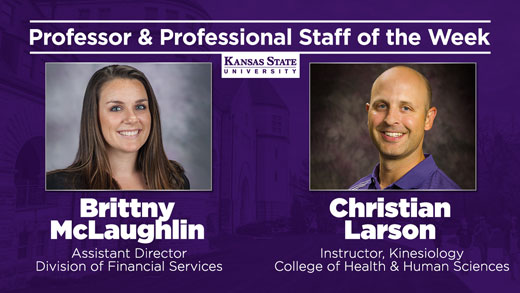 Brittny McLaughlin, assistant director of general accounting in the Division of Financial Services, and Christian Larson, instructor of kinesiology in the College of Health and Human Sciences, were recognized as Professional Staff and Professor of the Week at the Jan. 28 men's home basketball game.
Faculty Senate, the Office of the President, K-State Athletics and the Division of Communications and Marketing wish to recognize their contributions to K-State.
McLaughlin directs all central university activities related to accounts payable, travel reimbursement, capital asset management, sales tax and the university's procurement card program. In the past two years, McLaughlin has helped navigate new central payment processes, which required immediate business, technical and functional transition due to the pandemic and changes in our business landscape. She has also participated as a key member in the Oracle Financials upgrade project. Her energy spent troubleshooting and testing led to a seamless upgrade, which resulted in campus users experiencing no disruption in business activity.
McLaughlin's knowledge, expertise and personal management style make her a sought-after individual to serve on departmental task forces, such as the Fixed Asset Command Center upgrade project, the GASB 87/GASB 96 project and many cross-department search committees.
McLaughlin's team, like many across campus, has experienced retirements and individuals leaving for promotions, resulting in almost a 50% turnover since she came on board. McLaughlin saw the best in the challenge, using it as an opportunity to restructure and maximize the service potential of her team. This has resulted in a team that operates as a family and an overall culture that recognizes the contributions team members are giving. She has overcome adversity and challenges and is a daily example of what extraordinary things can be accomplished by a positive, motivated individual.
Larson is responsible for teaching three undergraduate courses, Biobehavioral Bases in Physical Activity, Biomechanics, and Topics in Kinesiology. He utilizes his years of experience in the health and wellness private sector to aid his teaching. Larson is an outstanding instructor in the College of Health and Human Sciences and has been recognized for his passion, excitement and expertise in his subject matter. He is also known for his ability to connect with students and help them achieve their goals. He recently developed a new course specifically designed to help students prepare for professional exams. Larson was also the recipient of the Myers-Alford Teaching Award in 2022.
In addition to his teaching responsibilities, Larson has served on search committees for a variety of positions within the department, college and university. He also works to connect with the community through youth camps and participation in the College of Health and Humans Sciences Health Professions Summer Exploration program.
Larson earned his bachelor's degree in kinesiology and a master's degree in kinesiology with an emphasis in exercise physiology from Kansas State University.