January 24, 2023
Veterinary researchers investigate cause of liver abscesses in cattle; receive $280,000 in grants and matching funds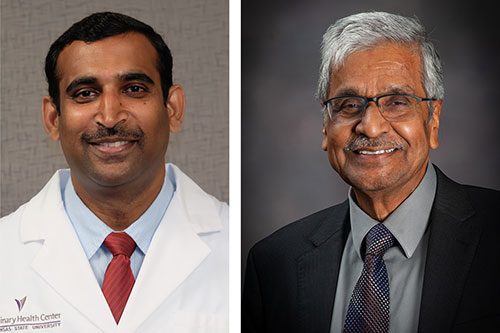 Raghavendra Amachawadi, assistant professor of food animal therapeutics, and T. G. Nagaraja, university distinguished professor of microbiology, are one of nine research teams to receive a $125,000 grant from the International Consortium for Antimicrobial Stewardship in Agriculture, or ICASA, and a matching $155,000 from Micronutrients Corporation, Cargill Incorporated and Phibro Animal Health Corporation.
These grants are targeted at optimizing the use of antibiotics in livestock to improve animal welfare, combat antimicrobial resistance and conserve resources.
Amachawadi and his team are evaluating the cause and pathogenesis of liver abscesses by targeting bacterial species in liver abscesses beyond the primary causative agent, Fusobacterium necrophorum, and determining their prevalence and involvement in abscess formation, especially the role of the hindgut segment of the gastrointestinal tract. The proposed research challenges the central dogma that bacterial species involved in liver abscesses originate from the rumen of cattle.
"This research could lead to identifications of new targets for interventions to replace the use of antibiotics to control liver abscesses in cattle," said Amachawadi, who works in the clinical sciences department in the College of Veterinary Medicine.
"These ICASA grant-funded projects are investigating novel and potentially high-impact solutions to promote targeted antibiotic use and advances in animal health and welfare," said Saharah Moon Chapotin, executive director of the Foundation for Food and Agriculture Research. "The projects' high level of public-private industry partnership speaks to the need to accelerate antibiotic stewardship research to improve the health and welfare of beef cattle and swine."
Five of the nine projects, including Amachawadi's research, address liver abscesses in feedlot cattle.