January 13, 2023
'Authenticity At Work': College of Business presents Martin Luther King Jr. panel
Submitted by Olivia Law-DelRosso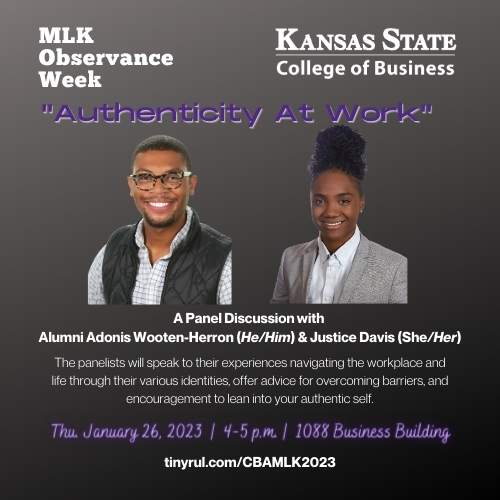 The K-State College of Business will host the Martin Luther King Jr. panel "Authenticity at Work" from 4-5 p.m. Thursday, Jan. 26, in Business Building Room 1088.
The panel discussion will feature alumni Adonis Wooten-Herron and Justice Davis. The panelists will speak to their experiences navigating the workplace and life through their various identities, offer advice for overcoming barriers and encouragement to lean into your authentic self.
Davis is a queer spoken word poet and corporate brand manager for MegaMex Foods.
Wooten-Herron is the North American recruiting lead for persons with disabilities and LGBTQ+ at Accenture, a Fortune Global 500 company.
View more information, including speaker bios.

The event is designed to be entertaining, inspiring and informative.
Every year K-State celebrates the life and legacy of Martin Luther King Jr. for an entire week. View the full 2023 schedule.