January 18, 2023
Three to receive awards for promoting diversity at K-State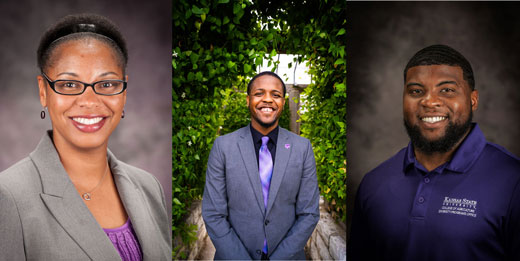 Brenée King, Christopher Burrell and Lonnie Hobbs Jr.
Three K-Staters will receive Commerce Bank Presidential Awards for promoting diversity at Kansas State University at a reception from 3:30-5 p.m. Tuesday, Jan. 24, at the K-State Alumni Center. This year's program marks the 44th year of the awards.
Brenée King will receive the Commerce Bank Presidential Faculty/Staff Award for Distinguished Services to Historically Underrepresented Minority Students, and Christopher Burrell and Lonnie Hobbs Jr. will receive the Commerce Bank Presidential Student Award for Distinguished Services in Enhancing Multiculturalism at K-State.
The faculty/staff award was established in 1978 to recognize outstanding individual contributions to the development of quality education for students of color at K-State. The student award was established in 1997 to recognize outstanding individual contributions to diversity enhancement in the student sector.
King skillfully leads the Developing Scholars Program and the Kansas Louise Stokes Alliance for Minority Participation with more than 20 DSP student mentors, five community college partners and one four-year partner with KS-LSAMP. King dedicates herself to the continuous improvement of these programs, including the creation of a new eight-week summer research program. Her nominators wrote that King approaches her work from a systems perspective because the core of her work is a deep commitment to diversity, equity, inclusion and belonging, or DEIB, and a capacity to build meaningful relationships with her students.
King serves as a member and former chair of the Black Faculty Staff Alliance, a member of the KSUnite planning committee and a member of the President's Commission on Multicultural Affairs, among others. King received the K-State KAWSE Award in 2017.
"Dr. King is a champion of equity who creates some of the best undergraduate experiences available to students on this campus," King's nominators said.
We thank King and her continued contributions to making our university more accessible and welcoming to all.
Burrell, a senior in mechanical engineering in the Carl R. Ice College of Engineering, credits his involvement in the university to his participation in the Kompass Summer Bridg Program through Project IMPACT, a three-day freshman orientation program for multicultural students. Burrell serves in many leadership roles at the university — he is the president of the award-winning Black Student Union, chair of the Big 12 Conference on Black Student Government, vice president of Alpha Phi Alpha Fraternity and a mentor for both the K-State Engineering Leadership Innovation Program and Project IMPACT. Burrell serves as a member of the National Society of Black Engineers, IMHOTEP Black Male Initiative, and the Mechanical and Nuclear Engineering Advisory Council.
Burrell helps to advance the university culture by engaging students with his BSU theme of "Embracing, Embodying, and Empowering Blackness" and by serving on a variety of campus committees to provide insight into the student experience at the university.
"Chris leads by example in modeling for other students how to be a true professional while caring about people and putting them first," Burrell's nominator said.
Hobbs, a doctoral student in agricultural economics, serves the College of Agriculture and the K-State campus in a variety of ways. He is the graduate assistant for the diversity programs office, co-advises the K-State MANRRS chapter, co-coordinates the KSRE Summer Research Fellowship Program, and assists in the MAPS Project IMPACT Summer Bridge Program. Hobbs educates students by serving as a graduate teaching assistant and instructor for GENAG 210— Human and Cultural Diversity in Agriculture. In this role, he uses the classroom as a space to increase awareness, appreciation and respect for diverse populations.
Hobbs serves as a mentor and advisor for multicultural students in the College of Agriculture. His background and life experiences lead him to provide thoughtful advice to younger students looking to find success and a sense of place in the college. Hobbs was a past presenter for KSUnite, and he engages in scholarly publications on the multicultural student experiences leading to student success.
"Lonnie's involvement, diligence, and professionalism have been great assets for DEIB, as he works to create a campus environment where underrepresented populations feel they are included and belong," Hobbs' nominator said.