December 12, 2022
Happy holidays from the College of Agriculture, KSRE Diversity Programs Office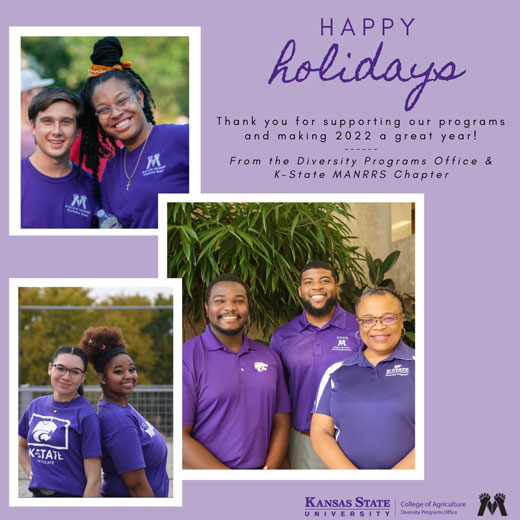 Season's greetings from the College of Agriculture and KSRE Diversity Programs Office.
Fall 2022 has been filled with outreach and engagement. We wish the students success as they complete their studies this semester. Thanks to the faculty for sharing their expertise and staff for serving as a valuable resource for all. An additional thanks to Dean Minton and all College of Agriculture administration for their efforts throughout 2022. We appreciate all who continued to support our diversity and inclusion programming efforts throughout this past semester, to accomplish a safe environment for all. We have been successful because of you.
The Diversity Programs Office and K-State MANRRS would like to congratulate Julia Rivera, 2019 Project IMPACT MAPS Scholar, and Brianna Maudlin, 2018 Project IMPACT KOMPASS Scholar, on graduating this December.
It has been a productive year. Please take a look at our fall 2022 accomplishments in this semester's Diverse Happenings newsletter. Special thanks to the DPO staff; Zelia Wiley, Summer Santillana, Lonnie Hobbs Jr., Raymond Thomas, Me'Laiha Enriquez, and Lailah Bias for their work throughout fall 2022.
We wish you all Happy Holidays! Stay safe and healthy throughout the break.
For more information on future events, please contact Zelia Wiley at zwiley@k-state.edu or the DPO at 785-532-5793.