October 18, 2022
Enjoy $1 pancakes with Sigma Alpha Iota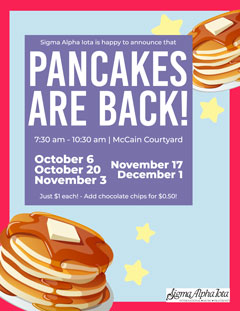 Enjoy fresh pancakes in McCain Auditorium.
Sigma Alpha Iota International Music Fraternity, a registered independent student organization, will host its next pancakes fundraiser from 7:30-10:30 a.m. Thursday, Oct. 20, in the McCain Auditorium courtyard on the first floor.
Pancakes are $1 each; add chocolate chips for 50 cents.
If you have any questions, please contact mmzeman@k-state.edu.