September 8, 2022
New Coppoc ONE Health Lecture to feature renowned international neuroscientist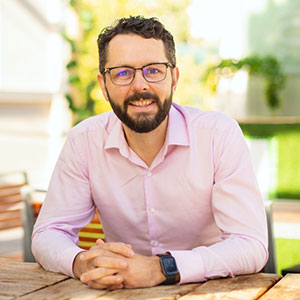 A new lecture series honoring a graduate of the College of Veterinary Medicine will launch at 3 p.m. Tuesday, Sept. 13, in the Boehringer Ingelheim Animal Health Auditorium between Trotter and Mosier halls. The lecture will be followed by a reception in the atrium.
The inaugural lecturer will be Mark Hutchinson, director of the Centre for Nanoscale BioPhotonics at the University of Adelaide, Australia. The title of his presentation is "Pain in 4D: The journey from the nanoscale to systems biology impact," and will also be available to view via Zoom.

The Coppoc ONE Health Lecture was established through the generosity of Gordon and Harriet Coppoc. Coppoc received his bachelor's degree in animal science in 1961 and his Doctor of Veterinary Medicine in 1963, both from Kansas State University. He was awarded his doctorate in pharmacology from Harvard University in 1968, served as a captain at the School of Aerospace Medicine and was a research fellow at the University of Chicago before joining the faculty of Purdue University in 1971.
In 1979, he was appointed as department head of physiology and pharmacology at Purdue and was later head of the department of basic medical science formed from the merger of his former department and the department of anatomy until stepping down from that position in 2008. He taught pharmacology to both veterinary and medical students until he retired.
In 1998, he was appointed assistant dean of the IU School of Medicine and director of the Lafayette Center for Medical Education at Purdue and retired from that position as an associate dean. In 2004, the K-State College of Veterinary Medicine presented an alumni recognition award to Coppoc. He retired in 2014.
The objective of the Coppoc lecture series is to bring internationally acclaimed scientists to K-State to discuss their research interests with students and faculty throughout the university, focusing specifically on One Health, which are issues that emphasize the connections between animal and human health. Coppoc especially appreciated the connections because of his career in both veterinary and human medicine.
"We are indebted to Dr. Gordon and Harriet Coppoc whose generous gift has made it possible to bring international experts such as Dr. Hutchinson, whose research fosters collaboration between human and veterinary medicine, to our campus," said Hans Coetzee, university distinguished professor and head of the department of anatomy and physiology. "The assessment and management of pain is a significant challenge for both physicians and veterinarians. Dr. Hutchinson is at the forefront of investigating the complex relationships between molecules and cells and the systemic manifestations of pain in both humans and livestock species. Using common experimental approaches to merge human and animal biological sciences, Dr. Hutchinson's research will enable a more rapid translation of clinical discoveries across multiple species, culminating in better health outcomes and improved animal welfare."
In addition to serving as a professor within the Adelaide Medical School, Hutchinson is president of Science and Technology Australia, or STA, a national organization that represents more than 90,000 scientists and technologists. He leads a team of 200 scientists from multiple disciplines affiliated with his center. Under his leadership, the center has created 16 startups with a combined market capitalization and market value of $519.1 million AU. As president of Science and Technology Australia, Hutchinson has pioneered the "bench-to-boardroom" concept and is advocating for a new national bench-to-boardroom initiative by STA modeled on the success of his research center's approach.
Hutchinson is currently working on cell-based biomarkers of pain in livestock. His research has implicated the brain immune-like cells in the action of drugs of dependence and the negative side effects of pain treatments. He has published more than 170 papers in journals and refereed conference proceedings. He is also a co-investigator on a recently funded international USDA partnership grant led by a research group in the department of anatomy and physiology and the department of clinical sciences at K-State.