April 26, 2013
KSDB-FM gets new station manager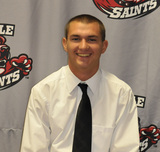 Eric Nehm, graduate student at the A.Q. Miller School of Journalism and Mass Communications, is the new station manager of KSDB-FM. The appointment was announced by the KSDB-FM advisory board.
Nehm brings significant experience to the position from his work with Entercom radio stations WSSP-AM and KISS-FM in Milwaukee, Wis., and has a bachelor's degree from Maryville University in St. Louis, with a double major in English and communications.
While at Maryville University, Nehm, provided color commentary and play-by-play for volleyball and basketball games, as well as participated in the talk show, "Saints Talk." Nehm has been producing live broadcasts of the Milwaukee Admirals hockey games on WSSP-AM and has had various KISS-FM on-air duties, including producing community access programming.
Nehm is moving to Manhattan this summer to transition into his duties as the new KSDB-FM station manager and begins his graduate studies at the start of the fall 2013 semester.