August 5, 2022
Pinkall to perform solo recital at the Kennedy Center
Submitted by School of Music, Theatre, and Dance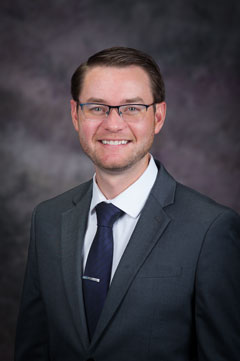 Bryan Pinkall, associate professor and director of the School of Music, Theatre, and Dance, will perform a solo recital at 3 p.m. Saturday, Aug. 6, at the Kennedy Center for the Performing Arts in Washington, D.C.
"Songs of Ascent" features immersive multimedia projections along with live performances by Pinkall, K-State faculty collaborative artist Amanda Arrington, and appearances by several K-State guest artists: professor emeritus Cora Cooper, violin; professor Reginald Pittman, tenor; and alumni Patrick Dittamo, alto recorder, and Jair Miertschin, flute.
"Songs of Ascent" sets rare and world-premiere musical performances to immersive visual imagery. This 70-minute concert production features the music of American bandleader Glenn Miller; Frenchmen Raoul Laparra and Jehan Alain; rare performances of rediscovered music from the Holocaust by Misha Veksler, Carlo Taube, Viktor Ullmann and Lea Rudnitska; renowned Austrian composer Anton Webern; and the world-premiere performance of "Pika-don" by composer and former U.S. Army Capt. Patrick Dittamo, set to the poetry of Yamaguchi Tsutomu, the only recognized survivor of both atomic bombings on Japan.
The Kennedy Center is the national cultural center for the United States and was named as a memorial to John F. Kennedy by an act of Congress in 1964. Pinkall is a Grammy and Emmy award-winning artist and his war recitals have premiered new and rediscovered works around the world including the National World War I Museum, the National World War II Museum, the Eisenhower Presidential Library, and Sydney Opera House. Learn more about this event on the Kennedy Center's website.