July 27, 2022
Two College of Education doctoral cohorts spend first residency week on campus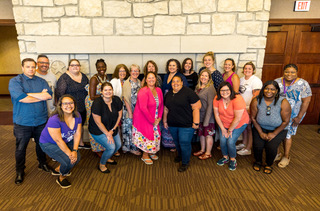 Members of the inaugural doctoral cohort of the College of Education's online Leadership in Academic Advising program traveled across the country to spend July 11-15 on campus for the first in-person residency week experience. Members of the second cohort arrived the same week, bringing a total of 21 of the 22 doctoral students to K-State.
The College of Education developed the program in concert with advising scholars with NACADA: The Global Community for Academic Advising and was launched in 2020. It is the first doctoral program singularly focused on leadership in academic advising.
Wendy Troxel, director of the NACADA Center for Research and College of Education associate professor, said this program will enhance the profession of academic advising.
"The opportunity for the doctoral students and faculty to come together on campus helps to solidify our commitment to each other as scholars and as colleagues," Troxel said. "They each bring unique perspectives and are already contributing to the growing literature on the role and influence of academic advising in higher education. The future of our profession is in great hands, to be sure."
The residency began with a timely and relevant panel discussion with NACADA leaders titled "Academic Advising: Leaders in Times of Change and Crisis." Panelists included Melinda J. Anderson, NACADA executive director; Karen Sullivan-Vance, associate director of strategic program development, and Sean Bridgen, associate director of external and institutional partnerships.
The doctoral students engaged in a number of professional development activities, including a Zotero session with Sara Kearns, professor at Hale Library; a session about writing research grants led by Cindy Shuman, associate dean of the College of Education; and a discussion about new vistas in advising research led by Troxel and Craig McGill, K-State assistant professor of special education, counseling and student affairs.
The students also had the opportunity to meet for extended class sessions for their summer courses, have conversations with their major professors, and meet the staff at the NACADA executive office. The students were treated to a campus tour, dined in the Tadtman Board Room in the K-State Alumni Center, participated in a photo scavenger hunt, devoured ice cream at Call Hall, played billiards and went bowling in the Wabash Cannon Bowl.
Troxel said one student who participated in the residency week called the week invaluable. "It completely changed the experience of an online student, which can be isolating, by making it personal and connected. It made the program a home versus a degree."
Faculty in the online Leadership in Academic Advising doctoral program include Doris Carroll, Christy Craft, McGill, Lisa Rubin, Lydia Yang and Troxel, all from the special education, counseling and student affairs department.