June 13, 2022
APDesign awards 2022 Heintzelman and Kremer prizes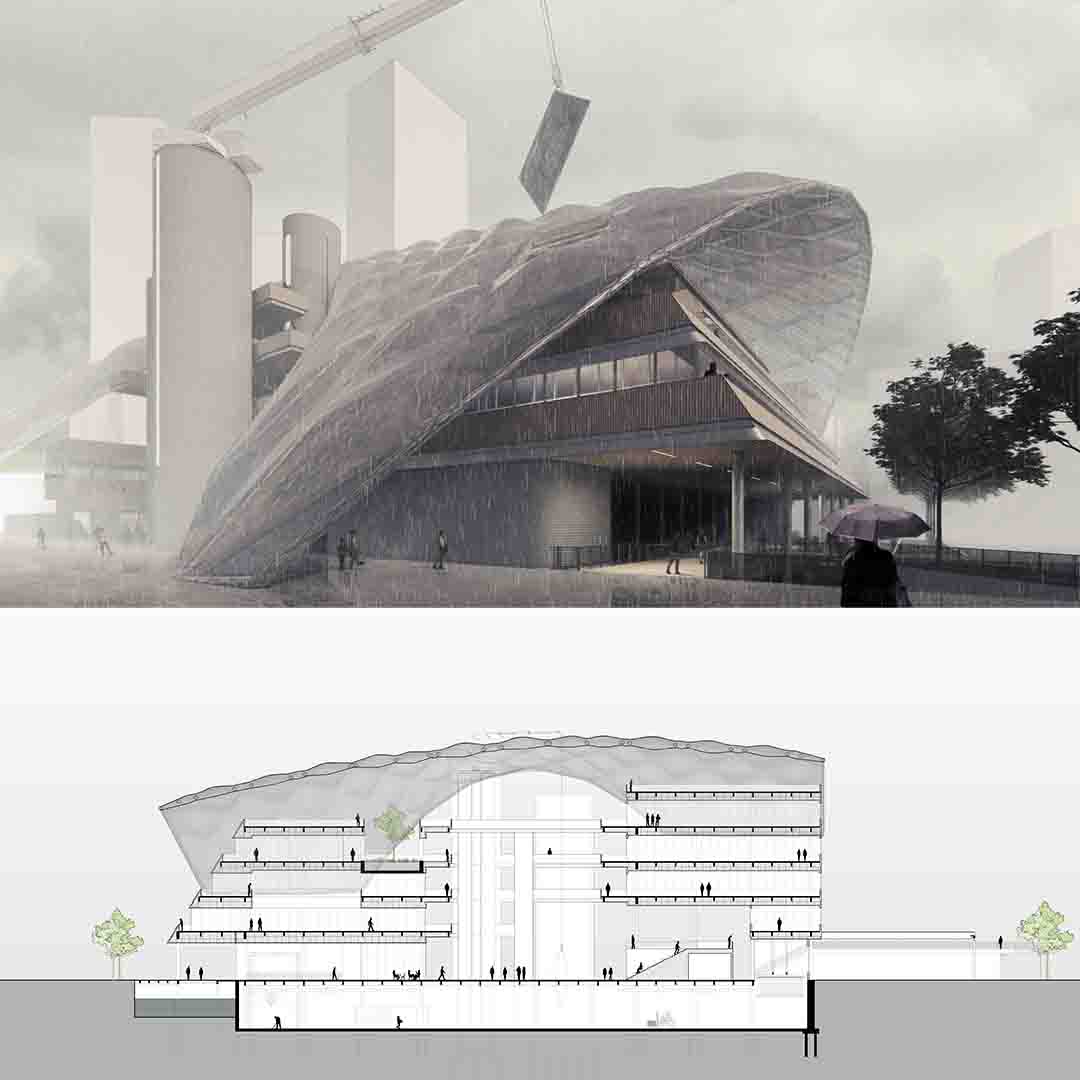 Fifth-year architecture graduate students at Kansas State University's College of Architecture, Planning & Design have been honored with the Heintzelman and Kremer prizes.
The Heintzelman Prize is presented annually for outstanding individual design achievements by students in the final semester of the professional Master of Architecture degree program. The 2022 winner is Matt Eichler, Manhattan, Master of Architecture graduate, for his project "Manufactured Reuse," completed in the fifth-year architectural design studio led by Genevieve Baudoin, associate professor of architecture.
The following 2022 Master of Architecture graduates were nominees for the Heintzelman Prize: Carl Glosenger, Raytown, Missouri, project title "Convergence," Professor Bob Condia's Studio; and Haneen Abu-Sherbi, Wichita, project title "Landform," assistant professor Grant Alford's Studio.
The Heintzelman Prize is named after J. Cranston Heintzelman, a longtime educator in the university's architecture department. After earning a Master of Architecture from Columbia University, Heintzelman moved to Manhattan in 1947 to begin a distinguished career teaching architectural design, sculpture and design theory. The Heintzelman Prize has been awarded by the faculty each year since Heintzelman's retirement in 1983.
The Kremer Prize is awarded for outstanding collaborative design achievements by students in the final semester of the professional Master of Architecture program. This year's winning project was the Kansas City Design Center with the project "Kessler Park Water Reservoir," Professor Vladimir Krstic's studio with Lydia Carter, Kansas City, Missouri; Donovan Douglas, Platte City, Missouri; Jonathan Ludwick, Olathe; Matthew McGuire, Bentonville, Arkansas; Payton Monks, Kansas City, Missouri; Rebecca Pedrosa, Lenexa; Kris Snodgrass; Kansas City, Missouri; Taryn Vogan-Bohrer; Springfield, Missouri; Braydn Voorhees, Olathe; Madi Wieseler, Kansas City, Missouri; and Aurora Wilson, Lenexa.
Also nominated for the Kremer Prize was the Design + Make Studio project "The Bank Art Space," completed in the studio of David Dowell, a visting professor, and Ted Arendes' studio.
The Kremer Prize is named after Eugene Kremer, a longtime member, and head of the architecture department. As an educator and adviser, Kremer fostered in thousands of students a passion for learning and a desire to achieve excellence in all areas of responsibility. While working throughout his tenure to promote strong and lasting relationships between practicing architects and the college's students, Kremer also created opportunities to engage students in collaborative activities, both on and off campus.
The 2022 Heintzelman + Kremer jury included David Cronrath, professor and associate provost for planning and special projects, University of Maryland; Gerard Damiani, associate professor, Carnegie Mellon University; and Upe Flueckiger, professor and interim dean, Texas Tech University College of Architecture.
The 2022 Heintzelman and Kremer jury was underwritten by GLMV Architecture, Wichita. With offices in Kansas City and Houston, GLMV Architecture has long been an outstanding partner of K-State, APDesign and the architecture department.