June 9, 2022
Powercat Motorsports competes at national Formula SAE event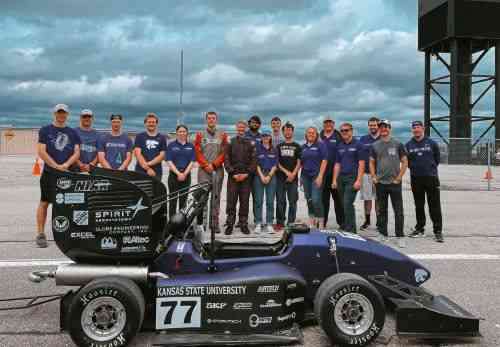 Powercat Motorsports, K-State's Formula race team, competed at Formula SAE Michigan alongside 100 teams from universities all over the world, including Germany, Brazil and Canada, in a three-day event, May 18-21, in Brooklyn, Michigan.
The Formula SAE competition challenges teams of undergraduate and graduate students to conceive, design, fabricate, develop and compete with small, formula-style vehicles. It is an engineering education competition that requires performance demonstration of vehicles in a series of events, both off and on the track against the clock. Each segment of the competition gives teams the chance to demonstrate their creativity and engineering.
Powercat Motorsports is a student organization in the Alan Levin Department of Mechanical and Nuclear Engineering. Kevin Wanklyn, teaching associate professor and undergraduate program director in the department, is the faculty advisor.
Vance Weber, senior in mechanical and nuclear engineering and Powercat Motorsports president and chassis lead, said the team solved several difficult design and mechanical issues in the month prior to the competition that caused the team to unite and work through adversity.
"Despite all of our issues, our team still performed at an extremely high level in Michigan against some of the best FSAE teams in the world," Weber said. "I'm proud that our team never gave up, and that no matter what, we found a way. I'm also especially proud of how beautiful our car turned out. In comparison to the other cars at FSAE Michigan, it was one of the best cars in terms of craftsmanship, fit/finish, manufacturing and sleekness."
The Powercat Motorsports team produced their fastest and most powerful car to date, where individual event highlights included fourth in acceleration, 14th in autocross and 23rd in skidpad.
"When we left the event, our team was confident we would return to the 2023 competition and finish inside the top 10," Weber said.
In addition to Weber, team officers involved in the competition from mechanical and nuclear engineering were Adam Meng, senior, chief engineer; Gage Weber, senior, aerodynamics lead; Anish Srivastava, senior, business lead; Eric Underwood, senior, drivetrain lead; Luke Reinsch, senior, electrical lead; Payton Lee, junior, engine lead; and Wyatt Haug, junior, suspension lead.
Other team members participating from mechanical and nuclear engineering include Ainslie Markle, senior; Jacob Decker, sophomore; Joseph Straub, sophomore; Nicholas Lake, sophomore; Ethan Gibbs, sophomore; and Ibrahim Al Qabani, master's student; as well as, Audrey Werner, junior in industrial engineering; Alana Neel, senior in elementary education; and Ashton King, senior in computer engineering.
Students interested in joining the team or needing more information may contact the Powercat Motorsports incoming president Anish Srivastava at anishsri@k-state.edu.
"The opportunity for extending classroom material into a real-life counterpart is unmatched," Weber said. "Additionally, the opportunity to meet automotive and aerospace professionals is one that continuously puts our team's graduates in those fields."
Powercat Motorsports thanks all of its supporters, including Kansas State University, the Carl R. Ice College of Engineering, the Alan Levin Department of Mechanical and Nuclear Engineering accounting staff, Powercat Motorsports alumni, family, teaching associate professor Kevin Wanklyn, professor Steven Eckels, and donors. Important business sponsors include Spirit Aerosystems, Holley Performance, Globe Engineering, Park Aerospace, Dimensional Innovations, NIAR, Altec, Excel Industries, BMG of Kansas, Katalyst Wraps, Vortex and Lincoln Electric.