June 1, 2022
Retirement reception for Gail Eyestone on June 9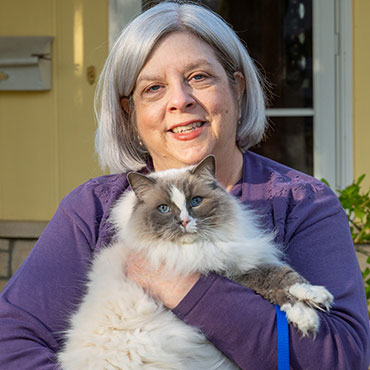 The Kansas State University community is invited to a retirement celebration honoring Gail Eyestone beginning at 3 p.m. Thursday, June 9, in the Boehringer Ingelheim Animal Health Auditorium in the College of Veterinary Medicine at 1710 Denison Ave.
Eyestone retires on June 11 after 20 years of service to the College of Veterinary Medicine. She was hired as administrative assistant to the former dean, Ralph Richardson, and served in that position until 2016, when she joined the anatomy and physiology department to work in the department office. In both positions, Eyestone contributed to the mission of the College of Veterinary Medicine by assisting with the daily and annual tasks and the unexpected requests, which were presented on a regular basis.
Eyestone's longevity with the college and her knowledge of its workings, personnel and alumni will be greatly missed. In 2019, she received the President's Award of Excellence for Unclassified Professionals in the Belonging category, exemplifying her work philosophy at K-State. Eyestone earned a dual degree in journalism and mass communications/radio and TV and Spanish at K-State in 1978. She viewed her job as a way of giving back to the university she loves and making a difference for the people here.