April 20, 2022
APDesign graduate student Haneen Abu-Sherbi awarded Condia + Ornelas Traveling Fellowship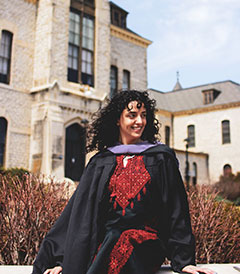 The Condia + Ornelas Traveling Fellowship panel has awarded the Condia + Ornelas Traveling Fellowship to Haneen Abu-Sherbi. Abu-Sherbi is a fifth-year graduate student from Wichita in the architecture department at Kansas State University's College of Architecture, Planning & Design.
Abu-Sherbi plans to use the fellowship to travel through Egypt, where she will have the opportunity to observe differences within the urban structure, learn about current Egyptian cities through post-digital drawing methods and investigate the elements of a dense, timeless region.
"This generous fellowship will allow me to experience Egypt's vast and diverse cities, hoping to gain a greater perspective on the culture and architecture of the historic region," Abu-Sherbi said. "I am beyond excited to embark on this adventure."
A panel of industry professionals was selected to evaluate the merits of all entries. The panel members included Ann Hossler, University of Kansas Department of Design; Tim Hossler, Tim Hossler Design; Emily Kruse Logan, Kruse Logan; Eli Kruse, Kruse Logan; Doug Shaffer, McHenry Shaffer Architecture; Sonja Shaffer; and Jill Sornson Kurtz, Page Southerland Page Inc.
Abu-Sherbi's research proposal outlines her desire to conduct an analysis between the relationship of sacred or important structures and spaces in Egypt, such as mosques and souks, investigating them in counterpart to the background fabric of cities through a series of layered drawings, translating their uniqueness through an architectural lens.
The panel was impressed with the quality of all proposals received, noting that each one had a unique perspective that reflected a deep appreciation for the desire to continue learning and understanding various cultural aspects of the profession. The proposals were ambitious and diverse in focus, geographic scope and proposed methods of documentation. The panel was also inspired by the sense of hope and optimism conveyed in all of the proposals.

The Condia + Ornelas Traveling Fellowship, established in 2020 by K-State architecture professors Bob Condia and Wendy Ornelas, annually enables an outstanding graduate from the K-State architecture department to study firsthand significant architectural works and cultural values beyond the boundaries of the university. The fellowship recipient will exemplify Condia + Ornelas' belief of the importance of understanding other cultures and studying places beyond one's comfort zone. Such knowledge and experience build a creative and innovative spirit in the foundation and lifetime education of an architect.