March 17, 2022
Call for proposals: Grandparents University 2022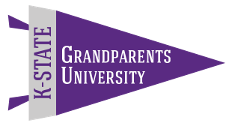 The College of Education is once again offering Grandparents University, July 31-Aug. 2.
What is Grandparents University? Think of it as a summer camp where grandparents and their grandchildren — ages 8-12 — can engage in a variety of learning experiences on the K-State campus in Manhattan.
The camp will begin mid-afternoon Sunday, July 31, and conclude with brunch on Tuesday, Aug. 2. Participants will stay in residence hall suites and eat in one of the residence hall food complexes just like a college student.
The College of Education invites submissions for interactive 75-90 minute activities appropriate for children between the ages of 8-12 for Grandparents University.
Each presenter or session will have a budget of $100.
This year, colleges may submit multiple proposals. Please think outside of the box. The sessions will be offered in the morning or afternoon of Monday, Aug. 1. Please indicate a time preference when submitting your proposal as well as a short 100-word abstract describing your session.
To stay aligned with the planning timeline, please submit a proposal and/or reach out to gpu@k-state.edu with expressed interest by Friday, March 25. More information about Grandparents University can be found here.