February 10, 2022
Kyle Bradley recognized as Professor of the Week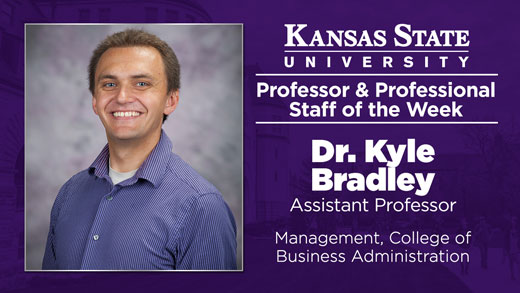 Kyle Bradley, assistant professor of management, was recognized as Professor of the Week at the Feb. 9 men's home basketball game.
Faculty Senate, the Office of the President, K-State Athletics and the Division of Communications and Marketing wish to recognize his contributions to K-State.
Bradley joined the K-State faculty in 2016. His expertise is in the area of human resource management and organizational behavior. Specifically, his scholarly works investigate the impact of star performers on organizations at both the individual and team levels, as well as the role that employee work orientation has on important HR and individual outcomes.
Additionally, Bradley is passionate about teaching and completed his ACUE certification in 2019. He was recently awarded the Ralph E. Reitz Outstanding Teaching Award.