April 8, 2013
Contrabass flute specialist Paige Dashner Long to conduct, perform with the K-State Flute Ensemble tonight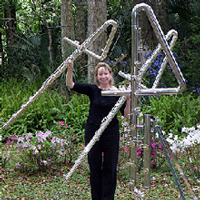 Paige Dashner Long, world-renowned contrabass flutist and composer, will conduct and perform a concert with the K-State Flute Ensemble at 7:30 p.m. Monday, April 8, in Room 204 at McCain Auditorium. This event is free and open to the public and is sponsored by the Academic Excellence Fund, School of Music, Theatre, and Dance, and Altus Flutes.
On Tuesday, Long will present a masterclass to K-State flutists on alto and bass flute techniques.
Currently Long, an Altus Artist, directs the Metropolitan Flute Orchestra in summer residence at New England Conservatory and the Florida Flute Orchestra. As an active guest flute clinician and ensemble director, she has led workshops and directed flute ensembles for music schools in France, Germany and Mexico, as well as for universities and flute associations throughout America. She performs with the International Flute Orchestra, is the coordinator of the National Flute Association's, or NFA, Flute Choir Composition Competition, serves on the Low Flutes Committee of the NFA, served on the executive board of the Florida Flute Association and is past president of the Greater Boston Flute Association.
As an international ensemble performer, Long has presented concerts in France, Germany, Austria, England, Wales, Ireland, Greece, Belgium, The Netherlands, Czech Republic, Russia, Finland, Estonia, Latvia, Poland, Slovenia, Slovakia, Hungary, Croatia, Chile and Mexico.
Long's flute ensembles utilize her extensive flute collection including piccolo, Eb soprano flute, concert flute, Bb flute d'amour, alto flute in G, bass flute, contrabass flute, the Kingma sub contrabass flute in G — one of three in the world, and the Kotato double contrabass flute — one of four in the world. This unique and exceptional instrumentation enables all of Paige's ensembles to be beautifully balanced, as well as provides unlimited repertoire possibilities.