January 19, 2022
Faculty work included in School of the Art Institute of Chicago exhibit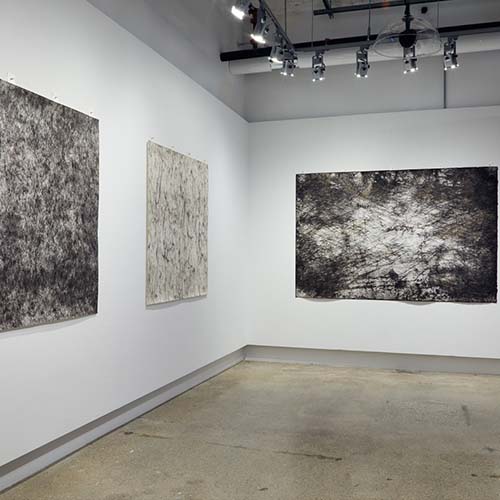 Work by K-State's Erin Wiersma, associate professor of art, and Katie Kingery-Page, professor and associate dean at the College of Architecture, Planning & Design, was included in the School of the Art Institute of Chicago exhibit "Earthly Observatory" from Aug. 30-Dec. 3, 2021.
Wiersma's large-scale works on paper and Kingery-Page's audio interviews with prairie ecologists, along with a video capturing the landscape and process of Wiersma's drawing, were part of the exhibit curated by institute faculty. The exhibit explored how we sense, portray, and engage our deep planetary entanglements.
Wiersma's drawings are part of a body of work the artist creates on-site with cooperation from the research staff at the Konza Prairie Biological Station. Wiersma uses a process of movement over landform to capture impressions of the biochar left by prescribed research burning of the prairie.
Kingery-Page's edited audio interviews include voices of K-State scientists John Blair, university distinguished professor of biology, and Edwin G. Brychta professor of biology; Clenton Owensby, professor of range management; and Shelly Wiggam, graduate student in entomology, reflecting upon the significance of using controlled burns to manage tallgrass prairie.
Both Wiersma and Kingery-Page hope their works together can bring greater public awareness to the significance of grasslands worldwide, particularly the Flint Hills tallgrass prairie.