January 3, 2022
Kevin Nalette appointed interim chief of staff, director of community relations
Submitted by Division of Communications and Marketing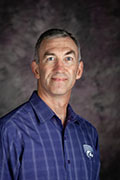 Kevin Nalette has been named Kansas State University's interim chief of staff and director of community relations by President Richard Myers.
Effective Jan. 3, Nalette will serve in this interim position until a national search is conducted to permanently fill the position that will be vacated when Linda Cook retires on Feb. 1.
Nalette is a 1996 graduate of K-State with a Bachelor of Science in life sciences and had a 27-year career with the U.S. Air Force before retiring in summer 2021 and returning to his alma mater as coordinator of Non-Traditional and Veteran Student Services.
"Kevin brings significant senior leadership experience, as well as demonstrated skills in managing high-level projects, collaborating with multiple constituents in addressing complex issues, and communicating with various audiences on critical and complex topics," Myers said. "His skill set will be invaluable as K-State begins the process of transitioning from my retirement in February and the arrival of incoming President Rich Linton on Feb. 14."
While in the Air Force, Nalette's career spanned many levels and culminated as the executive vice president of the Air Force Sustainment Center in Oklahoma City, where he was the senior leader for a 40,000 person organization that generated over $16 billion in annual revenue. While assigned to the Air Force's European headquarters, he served as the deputy chief of staff and executive officer charged with all aspects of the leadership transition between a retiring and an incoming four-star general officer.
After retiring from the Air Force, Nalette served as an adjunct instructor of supply chain management and logistics at the Price College of Business at the University of Oklahoma.
"I look forward to serving in this interim role as chief of staff and director of community relations," Nalette said. "As an alumnus, my passion for K-State runs deep. It's an honor to be able to utilize my experience and expertise to support and guide the university during this transitional period."
Nalette will report directly to the university president, serve as a member of the president's cabinet, and play a key role in the transition between university presidents. He will also coordinate community affairs for the university, representing the president's office on issues related to the city of Manhattan and Riley County.
Nalette will provide leadership for the prestigious Landon Lecture Series and coordinate special projects working with the president and provost. In addition, he will serve as a liaison for the president's office with the KSU Foundation and K-State Alumni Association. The Office of Institutional Equity, McCain Auditorium and Beach Museum of Art will also report to Nalette.
In addition to his bachelor's degree from K-State, Nalette has a master's in aerospace science-management from Embry-Riddle Aeronautical University in Daytona Beach, Florida, and a master's in military arts and sciences-strategy from the U.S. Army Command and General Staff College at Fort Leavenworth. He also completed a research fellowship with RAND Corp. in Santa Monica, California.