December 21, 2021
Fourth-year veterinary student receives Lowrie Diversity Scholarship from national association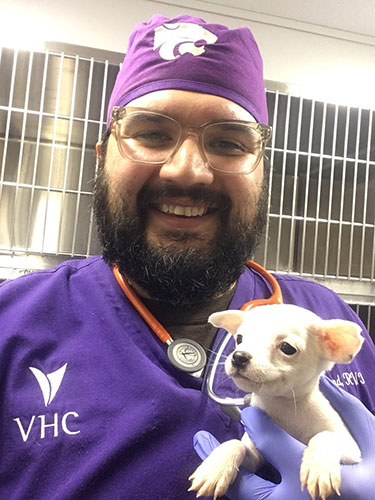 The American Association of Veterinary Medical Colleges has announced the recipient of the 2022 Patricia M. Lowrie Diversity Leadership Scholarship: Ron Orchard, a fourth-year veterinary student and recent graduate of Kansas State University's Master of Public Health Program.
The $6,000 Lowrie scholarship recognizes veterinary students who have demonstrated exemplary promise as future leaders and have made significant contributions to enhancing diversity and inclusion in academic veterinary medicine.
"The AAVMC is proud to recognize these outstanding individuals," said the association's Chief Executive Officer Andrew T. Maccabe. "Their contributions inspire colleagues, provide a model for future generations of veterinarians and elevate the overall excellence of our member institutions. We look forward to honoring them during our 2022 annual conference."
"I'm proud to receive this acknowledgment, both personally and to represent K State on a national level," Orchard said. "To be mentioned at the same time as Ms. Lowrie is humbling. This award is significant for the veterinary profession because diversity and inclusion will ultimately allow us to provide the best care for the widest portion of patients possible."
Orchard worked extensively as a veterinary technician before entering veterinary medical school. He is a certified animal welfare administrator who completed forensic training to detect animal cruelty, as well as training in disaster response, and foreign animal disease recognition.
In 2018, Orchard received a Certificate in Organizing Social Change from the Midwest Academy and in July of this year, he completed the Certificate for Diversity and Inclusion in Veterinary Medicine from the Purdue University College of Veterinary Medicine, with an eye toward working to increase diversity and inclusion in veterinary medicine. Whether mentoring students or advocating for homeless pets, Orchard has volunteered countless hours supporting efforts to provide free preventive veterinary care to vulnerable community members and at-risk animals.
Nominees for the Lowrie award are chosen on the basis of being consistent champions in addressing inequities and underrepresentation in the veterinary profession, advocating for social justice and valuing diversity and inclusion at American Association of Veterinary Medical Colleges member institutions.
Lowrie, now retired, served as senior advisor to the dean of the Michigan State University College of Veterinary Medicine and director of its Women's Resource Center. She is a longtime champion of diversity and inclusion in the veterinary profession and in academic life overall. The Lowrie scholarship was established by the American Association of Veterinary Medical Colleges in her honor in 2012.
The scholarship and other professional diversity awards will be formally presented at the association's 2022 annual conference and Iverson Bell Symposium, which will be held both in person and virtually March 3-5, 2022.
The member institutions of the American Association of Veterinary Medical Colleges promote and protect the health and well-being of people, animals and the environment by advancing the profession of veterinary medicine and preparing new generations of veterinarians to meet the evolving needs of a changing world. Founded in 1966, the association represents more than 40,000 faculty, staff and students across the global academic veterinary medical community.