December 22, 2021
Adulsak 'Otto' Chanyakorn recognized as Professor of the Week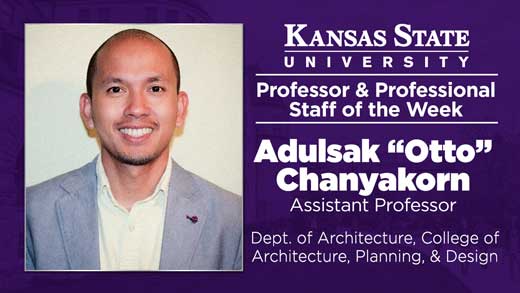 Adulsak "Otto" Chanyakorn, assistant professor of architecture, was recognized as Professor of the Week at the Dec. 21 men's home basketball game.
Faculty Senate, the Office of the President, K-State Athletics and the Division of Communications and Marketing wish to recognize his contributions to K-State.
Chanyakorn was born in northeast Thailand and practiced as an architect in Bangkok and Chiang Mai since 2004. In 2010, he moved to the U.S., and consequently completed his master's degree in architecture at Southern Illinois University, where he taught a variety of courses at the university's School of Architecture for six years before joining K-State in 2019.
His current focus is a method that fuses digital and analog tools in visual thinking and communication in architectural design process. In parallel to his teaching of design studio and digital courses, Chanyakorn routinely practices freehand drawing and watercolor painting as part of his research focus and meditative practice. He is also the 2020 Gabriel Prize recipient. Ultimately, his interest in drawing and painting is the gateway to developing an architecture based in experience, existence, emotion and embodiment. Chanyakorn regularly shares his creative work through his website.