April 11, 2011
Women celebrating women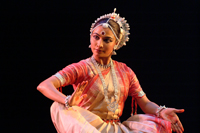 When the Nritygram Dance Ensemble comes to McCain Auditorium Thursday, April 14, it will be a chance to enjoy Indian dance and culture. It will also be a great opportunity to learn more about Kansas State University's international women at a pre-show reception sponsored by the Women of K-State. Students, faculty and staff of all backgrounds are invited.
Guests are encouraged to wear traditional clothing from their home countries and enjoy treats from around the world while mingling with other Women of K-State. The reception is 6 to 7 p.m. at the president's house. Attendees are then invited to join the group for the main event, the Nritygram Dance Ensemble, for an evening of enchanting Indian music and dance. Mention Women of K-State to get $10 tickets and sit among the Women of K-State to soak in the cultural and ethnic diversity.
RSVP for the reception by email to Shelly Broccolo at avery@k-state.edu. For tickets, call the McCain box office at 532-6428.