April 5, 2011
Distinguished professor named one of state's top scientists for E. coli focus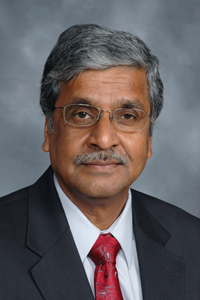 Kansas State University's T.G. Nagaraja has a goal: safer meals at the dinner table.
It's this goal and his work on E. coli O157:H7 that have earned Nagaraja, a university distinguished professor of diagnostic medicine and pathobiology, recognition from health officials and in academic and cattle industry circles. Now K-12 students in Kansas schools may also become familiar with his work, thanks to a Hutchinson-based organization that promotes scientific accomplishments of Kansans.
The Ad Astra Kansas initiative "Science in Kansas: 150 Years and Counting" recently named Nagaraja as one of the state's top 150 scientists -- past and present -- as part of the yearlong celebration of the Kansas sesquicentennial. As one of the selected scientists, Nagaraja was added to Ad Astra's digital trading card series. The cards are for K-12 students and help teach and emphasize the importance of science and innovation and the role they play in the history and future of Kansas.
"My first research experience was on working with microbes that live in the stomachs of cattle," Nagaraja said. "When I chose research as my career, I came to Kansas -- cattle country-- to do more research on problems related to cattle. I'm honored to receive this recognition."
Nagaraja has spent more than a decade studying E. coli O157 in beef cattle, looking at how the organism persists in cattle and their environment and how beef is exposed to it during the production process -- before eventually ending up on plates across the world.
"To me, E. coli O157 is an important foodborne pathogen because it affects so many thousands of people every year, sometimes even killing them," Nagaraja said. "Children are particularly vulnerable. Many children who are exposed to it develop kidney failure and complications, forcing them to be on dialysis for the rest of their lives."
Initially his focus was microbiology, with an emphasis on microorganisms in the gastrointestinal tract of cattle -- particularly the rumen, which allows cattle to digest grasses and grains. His transition to E. coli O157 research began after he served on a preharvest food safety team that investigated the bacteria. Now with all of his efforts geared toward understanding E. coli O157, Nagaraja's ultimate goal is to develop ideas that make all cattle E. coli free.
In the meantime, he's one of the foremost experts solving the biological puzzle, of which there are many pieces.
"Only a minority of cattle have E. coli O157 by the time they go to slaughter -- maybe 20 to 30 percent, depending on the season," Nagaraja said. "Those with the organism carry it in their gastrointestinal tract, which then contaminates their hide. But what's interesting is that the organism doesn't cause any problems for the cattle -- they stay normal."
Another oddity is that seasonal temperature affects the bacteria. May through September sees an increase in infected cattle, while the numbers decrease 2 to 5 percent in the winter months. Nagaraja said there's no explanation for this.
Collecting and analyzing E. coli O157 typically falls into two categories for Nagaraja and his lab: field-based and lab-based studies.
Field studies involve visiting feed yards, slaughterhouses and occasionally dairies. On-sight fecal samples are collected from the floor of the pens rather than from the animal itself. This provides an environmental snapshot of infectious externalities, like water tanks, soil and other cowhides -- three large transmission sources in feed yards.
At slaughterhouses the gastrointestinal tract can be studied. It's also where large-scale contamination can occur due to dirt, feces and hides coming into contact with carcasses.
Experimental inoculation studies -- which are harmless to cattle -- are conducted in K-State's Animal Research Facility, which is approved for biosafety level 2 research.
In winter months Nagaraja typically spends more time in lab-based studies, looking at the properties of E. coli and developing and improving methods to detect and quantify the organism in a variety of samples.
Nagaraja said he's most proud of contributing to a finding that cattle fed a diet that includes the by-product distillers grain have higher levels of E. coli O157. Distillers grain is what's left after the starch from corn is removed to make ethanol. The study was funded by a nearly $1 million grant from the U.S. Department of Agriculture.
Nagaraja said many of his findings couldn't be accomplished without the help of graduate students assisting in the research. "As professors, sometimes we have an idea to explore, but the graduate students are the ones who go and execute them. I've been fortunate enough to have a lot of really good graduate students in my career," he said.
Nagaraja received his bachelor's and master's degrees in veterinary microbiology from the University of Agricultural Sciences in Bangalore, India. He earned a doctorate in microbiology from K-State, and joined the faculty in 1979.