September 23, 2021
Music professor to lead study abroad tour to Poland
Submitted by Slawomir Dobrzanski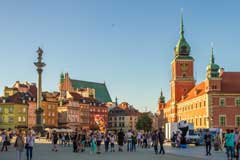 In late May 2022, Slawomir Dobrzanski, K-State professor of music, will lead a study tour to Warsaw, Poland.
Participants will visit sites related to the life of Poland's most celebrated composer Frederic Chopin, UNESCO Heritage Sites — Warsaw Old Town and the Ringelblum Archive, famous architectural monuments of Warsaw, as well as sites related to the Holocaust, Jewish culture and life under communism during the Cold War. Tour dates are May 22-30, 2022. This is a spring semester undergraduate and graduate class with summer travel. Deadline to apply is Oct. 15. Community members are welcome to participate.
For more information please contact Dobrzanski at slawomir@k-state.edu or visit the website.