March 13, 2013
K-State Inline Hockey Club going to national tournament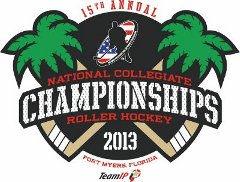 For the second year in a row and the 17th time in the club's history, the K-State Inline Hockey Club will compete in the National Invitational Collegiate Roller Hockey Championships April 10-14 in Fort Myers, Fla. Teams were selected by the selection committee for the National Collegiate Roller Hockey Association.
The club will join 19 other top teams in its division to compete for the national title. The tournament will consist of a three-game round-robin for seeding, followed by a single elimination tournament. The first round-robin games will begin at 7 a.m. April 10 and the national champion will be crowned following the noon game on April 14.
The club's best finish to date was a final four appearance in both 2001 in Anaheim, Calif., and 2012 in Salt Lake City. The club wants to cap its best regional finish, runner-up, this year with a national title. It plans to do its best to represent K-State and compete hard for the championship.