July 1, 2021
Online Journal of Rural Research and Policy seeks new members for editorial board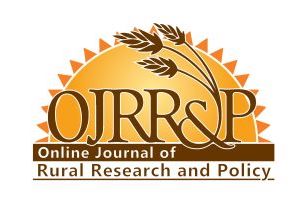 The Online Journal for Rural Research and Policy, a publication of the Chapman Center for Rural Studies, seeks potential editorial board members.
Editorial board members will help expand publication opportunities for scholars to disseminate research that will benefit rural communities. Board members serve between three to six years, are asked to identify reviewers, encourage submissions, promote the journal, advise on journal policy and scope, and serve as reviewers when appropriate.
The journal is a peer-reviewed, open-access, online publication. It publishes academic and community-based research, commentary and policy articles focused on rural places and spaces of interest to both academic and community audiences.
The journal invites those interested in the position to help stimulate discussion, encourage more research on rural issues, and improve access to information that enhances the lives of rural people and places.
Visit newprairiepress.org/ojrrp/ to learn more or follow on Twitter: @OJRRP.
For information about the journal please contact either Mary Kohn, editor, at kohn@k-state.edu or Tuan Nguyen, assistant editor, at  nguyetd1@k-state.edu.