May 13, 2021
Winners announced in K-State Innovation and Strategy Case Competition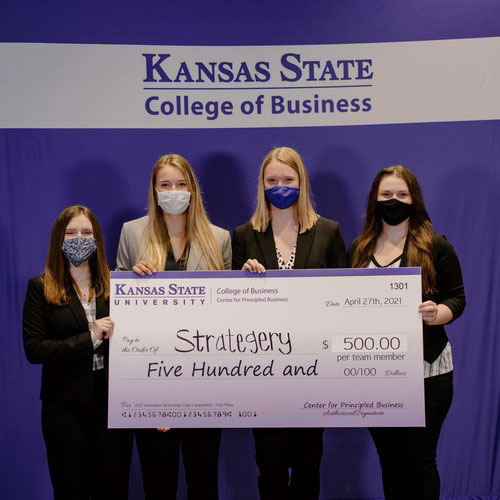 A Kansas State University competition has awarded five student teams with more than $5,000 in scholarships.
The second K-State Innovation and Strategy Case Competition gave students experience in analyzing a current business case and providing strategic recommendations for the company. The competition is organized by the Center for Principled Business in the College of Business Administration and is open to all students and majors in the university. This year's case focused on Zoom videoconferencing, and how the company can leverage its broad adoption into sustainable future growth.
This year's final round of the competition was streamed live on YouTube and can be viewed at the link. In total, nearly 300 students and 70 teams participated in the competition. For the first round, students submitted written case reports which were judged by a panel of faculty members and community partners. Five teams advanced to the final round, with a panel of K-State alumni industry professionals. This year's judges included Victor Ojeleye, financial planning and analyst lead, Cargill; Rebecca Robinson, chief corporate engagement and economic development officer, Kansas State University Innovation Partners; and Nick Chong, head of global support and services, Zoom.
"This case competition was organized as a way to help students develop critical thinking and decision-making skills," said Marcia Hornung, director of the Center for Principled Business. "We are proud to offer this learning opportunity for our students and are thankful for the investment from faculty and community members, and industry partners who volunteered their time in support of students."
This year's winners :
First place, Team Strategery, $500 per team member
Jessica Schenk, Lauren Walker, Hannah Schneider and Caroline Kimberlin.
Second place, Team I&S, $350 per team member.
Caleb Cramer, Rory Myers, Zamir Venica and Grace Worcester.
Third place, RHED Consulting, $250 per team member
Haley Smith, Derek Shaheen, Reagan Nelson and Evan McCleary.
Honorable mention, Team 10 Strategists and Team Business as Usual, $150 per team member
Bailey Bush, Dustin Allison, Michael Rask and Natasha Manjunath.
Natalie Dreiling, Sara Kuckelman, Mary LaBelle and Grace Pitts.